The youthquake movement of the 60s had women turning their faces back in time. The doll face look with baby pink lips and exaggerated eyelashes lasted most of the decade. 60s Mod makeup went a step further with outlined eyelids, double thick fake eyelashes and drawn on lower eyelashes. Bright blue eyeshadow or another color that matched a Mod outfit was another option.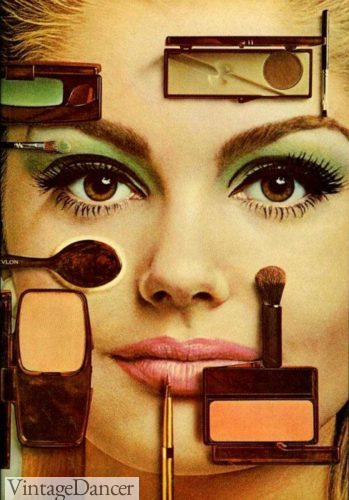 For most women, wearing daytime makeup was a bit softer:
60s Makeup Guide
Powder: Light flesh tone or sunkissed tan powder or liquid base.
Blush: Rosy pink, pale peach, with warm brown to contour underneath the cheekbones. Shimmer shades after 1967.
Eye Shadow: Pinkish-white, aqua blue, green, sky blue, brown. Heavy shadow on the lid.
Liner/mascara: Dark brown or black applied thick. False lashes optional. Drawn on thin lashes for some Mods like Twiggy.
Lipstick: Peach, berry, light pink. Pale, thin lips, outlined darker and topped with gloss.
Eyebrows: Naturally arched and feathered in the early 50s. Very thin and arched in the middle years. Natural and bushy in the later hippie years. Brown powder was added to light hair.
Early 1960s Makeup
The early 60s saw the exaggerated cat eye and full red lip continue.  Eyebrows were shaped into subtle peak instead of a high curve. Pink blush was subtle and almost non-existent.
Powder – Flesh tone.
Blush – Soft rose pink.
Eye Shadow – White-pink, purple, light blue, aqua.
Eye Liner – Dark brown or black, top and bottom lined and extended outwards.
Lipstick – Deep pink, orange-red.
Eyebrows – Shaped into a soft peak.
You can buy reproduction 60s makeup at Besame.
Mid 1960s Makeup
The babydoll look was "in" in the mid 60s. Pale white skin, white lips, bold black eyeliner and heavy eyeshadow made it distinct and dramatic. It was a stark contrast to the girly look of clothing until the mid '60s, when a layer of childishness was added. Eyes were exaggerated with extra long lashes, shimmer eyeshadow, arched brows, light spot blush, and lips turned to a baby pink pout. Looking back, the combination was a scene from a child-meets-ax-murderer horror movie.
Powder – Pale, almost white.
Blush – Warm brown/bronze sculpted the cheeks under the cheekbone.
Eye Shadow – Frosty-pink, green, blue.
Eye Liner – Dark brown or black.
Lipstick – Peach, shimmer pink outlined in a darker lip liner. Slightly overdrawn in the top corners.
Eye lashes – Add fake eyelashes to top and bottom.
Eyebrows – Natural and feathered.
For deep skin tones, the pasty white look wouldn't work, but the other shaping and drawing techniques would still apply. The goal was to create a face that glowed, with dramatic eyes and full lips.
Powder – Matching skin tone. Pur cosmetics has 100 shades. Foundation: NYX can't stop in matte
Blush – Warm brown/bronze sculpted the cheeks under the cheekbone. Lighter bronze on the cheek apple, nose and chin.
Eye Shadow – Dark pink, green, blue.
Eye Liner – Black.
Lipstick – Deep pink, peach, shimmer pink, red-pink, nude. Fenty Lipsticks
Eye lashes – Add fake eyelashes to top and bottom.
Eyebrows – Arched in the early years. Peaked in the later years.
1960s Hippie Makeup
The late 60s hippie makeup was the opposite of the Mods (although 1966-1968 hippies wore the mod look.)  All natural was the way to go, although many women couldn't quite adjust to wearing nothing. Instead, they opted for light brown mascara and a clear gloss lip. Face powder was used sparingly as well as a blusher.
Powder – None or  matching skin tone
Blush – Light pink-brown blush on apples
Eye Shadow – Skintone colors
Eye Liner – Top lash brown
Lipstick – Clear lip gloss or a touch of light pink
Eye lashes – Light mascara
Eyebrows – Arched naturally
Mod hippie makeup
Natural hippie- light mascara, blush cheeks, lipgloss
Gather more 60s makeup inspiration with our gallery at the bottom of the page.
1960s Makeup and Beauty Products
For an authentic 1960s makeup style, you must begin with authentic reproduction makeup and beauty products. We searched online and found these options for you.
More 1960s makeup examples:
1960s nail and lipstick colors
1961 simple makeup
60s natural makeup
1961 dramatic eye makeup
1964 thick, arched eye brows
Early to mid 60s makeup
1964 unique eyebrows
Mid 60s eye shadow
Late 60s powders
1960s doll face makeup
Eye liner and eye brow shapes, mid 60s
Moody, Dolly and Groovy eye makeup
Late 60s dramatic eyes and pale lips
Dramatic eyes, pink lips
1967 eyes and lips
Asian mod makeup