"The year 1970 was a year with no predominant look. Walk a block or so on any big city street, you'de see women wearing Indian block-print bedspread dresses, tight tie-dye T-shirts and hip hugger jeans, afros, boots that hooked up the front, long calico dresses, rose-printed black-challis dirndl skirts, maxi coats, and microminis." – What We Wore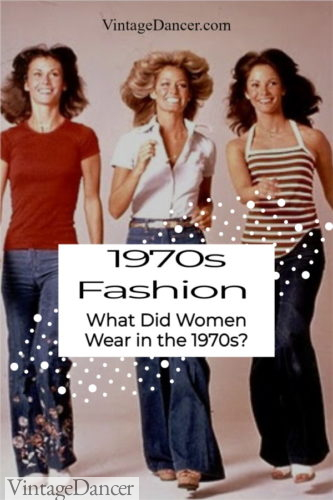 The 1960s fashion style was still in effect with rebellious hippies and unconventional mods fighting it out in department stores. Short skirts paired with long coats and long skirts paired with short vests. The decade couldn't decide what direction to take or what past decade to emulate.
The mods were reviving the 20s flapper look with cloche hats and shift dresses. The hippies turned back to the Victorian age of handmade modest Live-Off-the-Land peasant clothes. Mature women favored '40s and '50s classics. Seventies fashion was a mish-mash, a bit of everything for anyone who had an opinion about fashion.
In the end, comfort and casualness won the 70s fashion battle. All looks fought it out over the decade, adapting the mod style into a less plastic, simple easy wear and the hippie look into a more tailored chic. Both turned to the use of color; brights for the mods and earth tones for the hippies. There were also bold patterns. Paisley? Lots of paisleys!
The idea that 1970s fashion was an expression of one's personality replaced the everyone-follow-the-famous trend of the '50s and '60s. Clothes were made to mix and match with each other as well as across gender guidelines. Whether the combinations made any sense was another matter.
Vogue declared "There are no rules of the fashion game now. You're playing it and you make up the game as you go."
While most fashion history books and online articles focus on 70s fashion sub-cultures (luxury, punk, cowboy, hippie, exotica, soul) this one explores what the typical women wore in the 1970s. The housewives and working women in small towns and urban cities had fashion trends that looked a little different than what mainstream media displayed. Here are a few:
1970s Fashion Trends
What fashion was popular in the 70s?
Granny dresses and hippie dresses – Midi and maxi length Edwardian inspired lace trim prairie dresses.
Shift dresses – Short mod dresses and knee-length shirtdresses.
Shirts – Peasant blouses, tunic tops, halter tops, funny t-shirts, band shirts.
Bell bottom pants and jeans called flares or loons, wide-leg palazzo pants.
Homemade and decorated clothing – patches, fringe, embroidery.
Officewear – Pantsuits with silk bow blouses and blazers.
Jumpsuits – could be worn as casual wear, eveningwear, or for disco dancing.
Denim everything – pants, jumpsuits, dresses, skirts, shirts, jackets.
Long knit vests layered over tops and pants.
70s-does-20s – Vintage 1920s jewelry and accessories revival.
Now let's explore these seventies fashion trends. I'll also show you where to shop for 1970s inspired clothing, shoes, and accessories online. Plus sizes too.
1970s Dresses
The mini shift dress, jumper dress, drop waist dress, and tunic dress were still trendy dress styles in the early 70s. Sleeveless jumper dresses were worn over short or long sleeve shirts in winter with high knee socks. Drop waist shift dresses and button front sheath dresses gave a nod back to the 1920s flapper era.
Advertiser
This time they were made of polyester double knits that were stiff enough to withstand wrinkles and staining. It was the perfect material for the age of low-maintenance fashion and big bold colors. Many dresses had oversized collars and some even started to sport hippie prints in yellow, green, and orange flowers or paisley swirls.
1970 jumper dresses over turtleneck shirts
1974 double knit mod dresses
Colors ran the full spectrum. Jewel tones in fall/winter, pastels and white in summer. White was an especially popular color for everything from dresses to hats, handbags to shoes. Both daytime and evening wear (especially evening) turned to white as the hottest color of the '70s.
By 1973, dresses were looking more like '40s and '50s fashion with A-line or pleated skirts and button down tops. Simple one-piece dresses with a belt, cap sleeves, and swingy skirt or the two piece tunic blouse, skirt and tie belt made up most casual '70s dresses.
Many winter dresses came in the button up shirtwaist style with long bishop sleeves and a matching belt. Necklines were still quite modest – pussy bow neckties, small slits, mandarin collars, and large fold-out collars added variety without exposure. In the final years, the drawstring neck and waist belt along with a hemline that dropped to a few inches below the knee loosened up dresses even more.
1977 tunic dresses for teens
1978 sheer floral tie string waist dresses
There were a few other unique dresses made famous in the 70s, although their influence was not always seen in the mainstream.
The granny dress, prairie dress or peasant dress was a mix of hippie-meets-Edwardian (post-Victorian era) modesty with a touch of folk art. They were tea or ankle length maxi dresses (or skirts) in homey prints. They were trimmed in ruffles, lace, and embroidery. American companies Gunne Sax and Arpeja sold millions of these Edwardian dresses.
Long 1978 maxi dresses
Gunne Sax peasant dresses
Shop more 70s peasant or prairie dresses
Caftan dresses were Grecian inspired, and worn with high heeled sandals and beads or pearl necklaces. The caftan became a frequent style of hostess dress. Made in long tent-like shapes with an optional empire belt and huge kimono sleeves, they made a statement with bold colors and exotic prints that appealed to many soul and jazz singers.
1973 Dejalabe caftan
1974 caftan dresses
The wrap dress designed by Diane von Furstenberg was a cotton jersey shirt dress with a ballerina wrap top. In 1975, Furstenberg was making 15,000 wrap dresses a week for everyone from housewives to working professionals! It wasn't until 1978 or 1979 that they were made available to the masses and in other materials such as cotton, chiffon, voile, and polyester.
1978 yellow ruffled wrap dress
1976 DVF wearing her wrap dress
Designer Halston draped dresses made of gold lamé, wraps of cashmere, and gathers in liquid jersey. This created a new evening look that was sexy, free, and easygoing. His fabrics were stretchy, making them ideal for dancing the disco at Studio 54. Other brands followed Halston's designs, incorporating halter necks, glittering fabrics, and floating chiffons into eveningwear gowns.
1973 white and silver gowns
Metallic Disco Gown
Learn more about 1970s dress styles such as the house dress, prom dress, and evening gowns.
Disco dresses, like evening gowns glimmered under the disco lights. Metallic, satin, sequin, lame, and velvet were made into wrap dresses, mini dress, maxi dresses and much more. Any style of 70s dress was fair game to wear to the disco. You'll find more about Disco dress fashions here.
What Colors were worn in the 70s?
Rich brown, deep purple, baby blue, mustard yellow, ivory, denim blue, and red were some of the most popular colors in 1970s fashion. There were brighter mod colors in the early 70s and dark earth tones in the late 1970s.
70s Pants & Jeans
Women's pants in the 70s had more diversity than the previous two decades combined. Some were waist high and wide leg while others were hip huggers with only a flared leg. Some were tight cigarette fit, straight leg, or very baggy. Some had cuffs, some didn't.
For most women, daily fashion included wearing cotton or polyester knit high-waisted and wide leg pants in pastel colors paired with a tunic top, button-down blouse, or snug knit shirt. Simple and comfortable, pants dominated most of the 1970s for both day and dressy evenings.
1970 wool pants, blouses or knit tunic tops, fur vest and silk scarves
1971 flare wool pants
Dressy pants were inspired by the '40s with a high rise, wide but straight leg, and a flat front. All colors were fair game for home or office. By the end of the decade, the pleated front pant with tapered ankle was setting the stage for the 1980s.
1978 red slacks
1979 pleat waist pants
Palazzo pants in the early to mid 70s built on the wide leg pant trend and doubled it with even more fabric that flowed like a skirt. They were best when worn while hosting an evening house party. Plain colors as well as big floral prints made these pants a dramatic statement.
1975 palazzo pant sets
1978 dressy wide leg pants
1970s Denim Jeans
What did people wear casually in the 70s?
It was the blue jean that became the uniform of the 70s. Blue jeans were worn all day, all night, in all styles. At first, designers tried to get women to wear other kinds of pants, but women refused to give them up. Instead, new designs were introduced each season, giving women an excuse to purchase a few more pairs and upcycle the old ones.
In the early 70s, blue jeans that were used or pre-bleached were favored over anything new. Adding contrast stitching, studs, and patches to denim was a creative way to make them unique. The more the better.
By the late 70s, jeans turned back into dark washed and skin-tight. Colored jeans were also more prevalent in later years. Brand names Calvin Klein, Pierre Cardin, Jordache, and Gloria Vanderbilt were especially prized. Wearing a pair of designer jeans with a logo on the back pocket said a woman was in vogue. This was the beginning of designer jeans and high price tags.
Jumpsuits
Jumpsuits were a stretchy adaptation of overalls. Using the restroom in them was precarious. During the day, the jumpsuit was made of double knit polyester, cotton, or denim with a zip or button up front, pant pockets, and oversized collar. The denim jumpsuit with a zip up front revived the overall look. Evening jumpsuits slimmed down the look into a stretchy bodysuit with a sleeveless or halterneck top. Shop 70s jumpsuits.
1970 polyester jumpsuit
77 denim jumpsuits / coveralls / boilersuit
1978 utility jumpsuits
1978 evening jumpsuit
1970s jumpsuits in funky prints and shimmering metallic are trendy Halloween and party costumes. Shop non-Halloween 70s style jumpsuits here.
Women's Pantsuits
Since a record number of women were entering the professional workspace predominantly held by men, women felt a need to dress for success in menswear-inspired trousers, shirts, and jackets. Diane Keaton's gender-blending role and wardrobe in Annie Hall inspired a new look for the office. The era of women's pantsuits, although not new, exploded on the market. Man-tailored blazers were worn over a vest and pussy bow tie blouse with wide trousers and pointy toe boots. Adding to it men's style button down dress shirts, matching suit vests, big hats, flat shoes, and glasses, the look became a new style for intelligent yet trendy women everywhere.
1973 plaid and check blazer pantsuits
1973 black and white blazer with accessories
1977 pinstripe pantsuits
1978 Keaton style professional look
Pantsuits came in rich colors like burgundy or dark green in winter and pastels or white in summer. The pantsuit was softened with a silk blouse and a loose bow tie instead of a necktie. An oversized collar blouse was another option that mimicked men's dress shirts.
In the early years, blazers contrasted the pants and blouse with bold plaids and checks. Towards the end, they matched into one uniform suit and came in traditional men's suiting material and patterns such as pinstripe. Contrasting blazers and pants sets rounded at the end of the decade, beginning the powersuit revolution of the 1980s.
Professional skirts and dresses were an alternative to pants. Colorful floral prints or solid silks with a modest neckline and a coordinating blazer worn on top could be alternated with dressy pants. Skirts were below the knee A-line, maxi, or pleated solids. This was the uniform for professional women. Secretaries and assistants instead wore the same casual, girly styles worn after work and weekends. Think Mary Tyler Moore at her newsroom desk vs Phyllis in her fussy short mini dresses.
1973 long and short jackets instead of blazers
1978 tailored blazers and skirts
70s Skirts
Outside of the office, women's casual skirts came in every length from the micro mini to a floor-length maxi. The mini skirt was a carryover from the 60s, still worn by teens and young women until 1973 when skirts dropped to the floor for the first time since the turn of the century.
The most popular length and styles were the straight or pleated knee-length A-line skirt. They were roomy around the hip and legs, yet often had a partial or full elastic waist for comfort in the middle. Some were button down, and some had tie belts. Dark denim and chevron stripe print skirts were hugely popular in the late 70s.
1970 teen mini skirts
1973 knee length pleated skirts
1978 A-line Denim Skirt
1979 A-line and chevron print skirts
Skirts grew longer at the end of the decade when the midi length peasant skirt came out of the hippie movement and into the mainstream. Tiers, gatherers, tribal prints, and inset lace created a much more effortless and casual look to a changing decade.
Long peasant or granny skirts offered an alternative to the mini and midi skirt craze. They swept the floor with a full flowing circumference and were prone to catching on doors, escalators, cars, and shoes. The St. Topaz skirt was built on the granny look with J shaped gores in alternating fabrics in 1973. Many hippies turned to make denim skirts out of blue jeans by opening up the inside leg seams and stitching them back together. Gores of fabric could be added as well as lace and embroidery trim.
1978 tiered midi peasant skirts
1979 soft skirts
The hippies also made skirts from patches of fabric (quilted style), crochet squares, suede, and velvet. Recycle and upcycle were the names of the game.
1976 denim and patchwork skirts
1977 skirts
1978 peasant skirts
1971 crochet afghan skirt, scarf and tunic
70s Shorts
Like skirts, women's shorts came in a few lengths. The shortest both in length and fad were hot pants. They were very short shorts in bright colors of satin, cotton, nylon, denim, or velvet, and oddly enough were worn in winter more than summer. They had an inseam length of only two or three inches, but they came up to at least belly button level for that retro high waisted look.
They looked very European chic when paired with tall boots and bright tights. Adding a long wide-lapel blazer made them somewhat more work appropriate. They were a short-lived fad beginning and ending in 1971, but they remained popular on the disco dance floor and in roller skating arenas for most of the decade.
In general, shorts fit high on the waist, tight and flat around the hips, and straight through the leg. Shorts could be hip huggers in the early years or high waisted for most of the decade. Large flap pockets and zip pockets mimicked the safari look. Some denim jeans featured a frayed/cut off edge going into the 80s.
Knee-knockers was a length that ended just above the knee. Jamaica shorts were a few inches above the knee, and short shorts were a few inches below the crotch. Cotton, denim, polyester stretch, and poly knits were all fair game materials. Shop 70s shorts.
1974 short and low waist white shorts
1976 Shorts with pockets
1976 denim shorts
1977 knit shorts
Athletic shorts were made of cotton twill or terry cloth with a loose leg, low waistline, and curved side cutouts trimmed in contrasting twill. Shop 70s workout clothes.
70s Shirts, Blouses & Tops
What kind of tops were popular in the 70s? women's blouses, knit shirts, graphic ringer T-shirts, tunic tops, halter tops, and peasant blouses.
70s blouses were conservative button-down styles with oversized point collars. Polka dots, paisley, floral, and solids made it onto blouses with big pussy bows or small bow ties at the neck. Long sleeves featured the wide dolman shape or straight sleeves with a balloon wrist.
1970 Chevron Tunic Blouse Shirt
1977 Bow Tie Blouse with Blazer Jacket
Silk blouses were finally (more) affordable than they had been before WWII. Women saved and splurged on this natural fiber, or they wore silk-like synthetics which didn't breathe well and were hot to wear.
Sexy blouses had a very low v-neck, something wandering eyes hoped would reveal some cleavage. Since many small chested women didn't wear bras, this wasn't an uncommon occurrence.
Prairie blouses, peasant blouses or hippie blouses were a pretty trend in the early 70s. Some had big pilgrim collars or middy collars, ruffles, bow ties, pintucks, and lace insets. They were romantic in white or pastel solid colors and hippie-like in small floral prints.
1977 peasant tops, crochet trim
1977 peasant shirt, western shirt, chevron striped tunic
Tunic shirts were the ultimate in comfort women's shirting. The long length also did a great job of hiding big hips, busts, and tummies instead of showing them off in a tight t-shirt. They paired well with a comfortable pair of jeans or trousers or layered over pleated skirts.
In cotton, tunics were an ideal summer shirt. In matte jersey or a polyester print knit, they could be dressy enough for a dinner party. Each came with a matching tie belt to accent the waist without the pressure of a leather belt.
Midriff button down check print shirts or crop knit tops were summertime casual favorites. The halter crop top was also a favorite look paired with high waisted flares or short shorts.
Polo shirts zipped or buttoned up or were left open in a small V with straight or Peter Pan collars. They fit snug with short cap sleeves.
Tank tops
1978 Knit T-Shirt, Polo, and Tank Top
T-shirts were tight and short and a means to display funny double-entendres such as "Hot stuff." Many had contrast bands at the neck and arm, the ringer-T look. Rainbow stripes were also popular.
Jersey or cotton tank tops and turtleneck sleeveless tops were casual alternatives to the boyish T-shirt.
Band T-shirts became the thing to collect and wear to music festivals.
Ethnic tunics and shirts such as Mexican peasant blouses, Indian kaftans, embroidered djellabas, African daishikis, and Eastern European folk embroidery became part of the hippie wardrobe.
Smock tops were an American version with some lace or crochet overlaid around the neckline. Smocks were comfy but not flattering. They were loved by pregnant women.
Learn more about women's 1970s shirts, tops and blouses styles.
Vests were a major layering option throughout the 70s. Long knit cardigan vests were layered over blouses and pants, either open and swaying or buttoned up with a belt. Short men's style suit vests paired with pants or skirts. Pullover knit vests added a layer of warmth without the bulk of a sweater. The hippies liked fringe suede vests, faux fur vests, denim vests, and crochet vests. Almost everyone's outfit needed some kind of sleeveless vest. Shop vests.
70s knit or fur vests
1970 hippie outfits – fringe vest and flares sold in Sears stores. Hello mainstream!
Sweaters. The wrap top or dolman sleeve sweater was a spillover from the 60s. It had a loose top and a very fitted wide waist. Cable knit cardigan sweaters and vests were especially popular in the 70s.
Many 1970s sweaters were held closed with a tie belt, had a small shawl collar, and came with a matching knit shirt for an old "twin set" look from the 50s. Shop 70s sweaters.
1972 teen sweaters
1977 cardigan sweater
The knit poncho was the primary warm layer in the early 70s. Homemade crochet, open weave knits, folk designs and fuzzy plaid blanket ponchos in short and medium long lengths topped not just hippies but mature women's torsos.
Scarves, wraps, and shawls of the same materials, usually homemade, were alternatives. Shop ponchos.
1970 plaid poncho
1970 knit poncho
70s Jackets, Coats, Capes
Women's coats started out with big plaids in long or knee-length trench styles. The trench coat and wrap coat remained in style most of the decade but in lighter pastel and ivory colors. Heavy tweeds, boucle, and tapestry came into fashion and the beginning and end of the decade too.
Lengths shorted up to double-breasted pea coat or blazer jacket. The mid-length leather wrap jacket was a trendy favorite as well as the teddy coat, a faux fur-pile boxy half coat.
The vinyl plastic raincoat or slicker coat with matching bubble umbrellas in bright mod colors or clear plastic continued into the decades as well.
1973 leather o suede trench jackets
1976 double breasted coats
1970s teddy fur coats
1977 leather or fabric trench coats
Many 70s coats are back in style for 2018-2019. Long suede jackets with fur trim, shearling lined denim jackets, teddy coats, embroidered coats, and fringe trim coats are all part of the hippie boho revival. There are also many vintage style long coats in rich earthy tones making a comeback this year. Shop 1970s coats and jackets here.
70s Shoes
The early 70s fad was for clunky platform shoes. They were first seen in the late 1930s, but saw revival in the '70s quest for nostalgia.
At first, the platform was a modest 1 inch sole similar to late 40s shoes. Soon the sole grew to 2 or 3 inches with a 5 inch heel. The platform found their way onto Oxfords, sandals, and boots.
These clodhoppers look the wiggle out of walking in mini skirts, making them feel a little less obscene. They looked best with flared jeans or pants.
Shoe designers personalized platforms for different fashion audiences. Decorated with studs or rhinestones, they made Pop stars 'pop' on stage. Mainstream designs featured patchwork, embroidery, leather, or painted art.
With high ankle straps and fruity colors – like peach, yellow, amd pistachio – even plain platform shoes were a pop of color against a neutral outfit.
Clogs were the footwear of workers in Sweden and the Netherlands, a lifestyle romanticized by the hippies. They were heavy and bulky but easy to slip on and off, unisex, and comfortable.
1970s clogs usually featured wooden soles and a leather strap or top with open heels. Mules were combined with the clog sole in the mid-70s and flew off the shelves. In summer, sandal heels with wood soles complemented floral dresses.
1973 platform heels
1978 wedge sandals
Wedge heels were another throwback to the 1940s. Wedge loafers, wedge sandals, and wedge Oxfords each had a cork wedge sole and a full coverage body. Canvas wedge sandals were colorful in summer with white laces.
Chunky square heeled shoes provided a stiff but sturdy heel in the middle of the decade. Colors were plain white, brown, yellow or red with minimal decor. They were heavily influenced by menswear shoes of the 60s.
Vintage dancing shoes from the 20s and 60s put women back in dainty heels in the mid-70s. T straps, Mary Janes, cross straps, and ankle straps perched on thin but sturdy stiletto heels. They were especially popular as evening shoes and disco dancing heels. Snakeskin prints were part of every stiletto shoe designer's collection.
1970s bock heel sandals and wedges
1978 disco sandals
Boots, particularly tall lace-up granny boots in tapestry fabric or leather, paired well with long peasant dresses.
The mod go-go boot was still worn in the early years with mini dresses and skirts.
Cowboy boots entered mainstream fashion in 1970s America. Women felt strong and powerful in boots. Shop all boots.
Birkenstock sandals emerged in 1967 and were quickly picked up by hippies in the early 1970s. The contoured footbed and earth tone colors fit right in at festivals, concerts, and rallies.
1970 Lace up boot
1970s Granny Boots
Granny boots, clogs, platform sandals, and summer wedges are back in fashion today. Shop 1970s shoes here.
70s Swimsuits
Swimsuits such as the tie-front bikini with boy shorts, halter tops with cut out sides, and plunging front necklines made beaches and pools a place to see sexy skin on display. Modest swimsuits such as the swimdress or bubble top were more welcome by mature women.
Geo prints, tribal prints, mod colors, and earthy hues made swimwear a vivid experience. See more pictures of 70s swimwear and shop retro swimsuits here.
1973 bikini swimsuits
1973 geo print swimdress and cover up
1973 bathing suits
1978 bikinis
Sport Clothes- Athleisure
Wearing jogging outfits with tennis shoes was something 1970s women did regardless of athletic ability, much like today's yoga pant phenomenon.
Workout clothes could be worn at all hours of the day or night by women of all shapes and sizes, although they were preferred by women who had gym bodies. The same could be said for dancewear – leggings, tights, leotards, crop tops, and terry cloth coverups. Sweat-suit chic? Absolutely.
Dance clothes made their way onto the disco floor in the later 70s. Ballerina wrap dresses, jersey jumpsuits, and metallic leotards danced into the 80s.
1977 leotards worn with or without matching tights
1977 exercise clothes
1977 sweats, track suit, leotards and tights
1978 sneakers
Farrah Fawcett wore Nike running shoes with her jeans, kick-starting a trend of athletic shoes. Shop retro sneakers here.
70s Lingerie
Despite the trend for women to be bra-less and girdle-less in the 70s, the luxury lingerie market was hot stuff. Intimate apparel was displayed in department stores front and center. The designs were light and airy camisoles, teddies, and step-ins made of silk or silk-like nylon trimmed in lace. Read more history and see pictures of 1970s lingerie.
Shop retro lingerie here.
1970s Makeup
The painted face, baby doll exaggeration of the mods was a thing of the past when the all natural hippie look took over. No makeup (unless it was unnoticeable) was the ideal for many women. The no make up followers still favored lip gloss to prevent chapped lips and add just a touch of shine. Heavier shimmer eyeshadow came into the late 1970s with the disco craze.
Read more about 1970s makeup for fair and deep skin tones.
1976 natural glow makeup for deep skin
Natural day makeup for fair skin
1970s Hairstyles
1970s Accessories
Hats – While hats had been slowly going out of style in the 50s and 60s, many young women in the 70s still wore them. The wide brim floppy hat is probably the most iconic of the decade. It paired well with peasant dresses, especially in white mesh in summer or in brown suede or handmade quilted designs with hippie clothes. The wide brim and tall crown cloche continued to be a regular in the 70s in all sorts of felt colors with wide buckle bands. Similarly, the casual bucket hat with or without a fold up brim was a summer staple. The tall crown baseball hat and sun vision were also sporty favorites.
My favorite hat is the cricket hat or newsboy cap which came in every material and color imaginable from terry cloth in summer to corduroy in winter. The best hats for winter had to be hand-knit beanies and berets. Chunky knits with wide-open weaves looked like a hat grandma made. Slouchy berets and beanies were loved by hippies. Most of these hats are back in style now.
Headbands were common hair accessories for hippies. Leather or suede forehead bands decorated with beading, braids, macrame, feathers, and flowers matched the earthy vibe.
Shop 70s hats, scarves, headbands, wigs and more accessories here.
1978 accessories
Scarf – A scarf tied around the neck or around the head like a kerchief was carried over from the 60s. Thick winter scarves draped over shoulders, while a lighter spring scarf could be tied from one shoulder and pinned at the waist for a very high fashion look.
Belts – Most clothing was sold with a matching self-fabric belt or tie belt. Most women also had wide belts with ring buckles to add over a tunic top or long shirt. Thin and thick belts made of natural materials like macrame, woven tapestry, and recycled fabric added variety to the hippie look. The early years still saw colorful plastic belts and rainbow elastic belts, especially with teens. Shop vintage style belts.
Handbags – The macrame body bag was the new purse style of the 70s. Long shoulder strap with a rectangle or rounded woven body in ivory was a summer essential.
The bobo bag, pouch bag, saddle bag, and satchel were large enough to carry anything and everything in them. Women favored earthy brown leather, blue suede, tapestry prints, or green vinyl in winter. They looked handcrafted but usually were purchased.
Mature women turned to quilted handbags with ring handles for their crafty style.
In the evening a rectangular clutch bag with a wrist strap or vintage beaded, mesh or sequin frame bag held essentials beautifully. Shop 60s and 70s new handbags.
1972 handbags
1979 hats and bags
Sunglasses – Large oversized square, rounded, and aviator-style sunglasses were worn by men and women. Shades could be smokey grey, natural amber, or tinted brown. Women's frames were usually plastic tortoiseshell in natural colors. Small round mirror sunglasses were favored by hippies and musicians. The lenses came in a rainbow of color options. Shop sunglasses.
Jewelry – Jewelry took a flashback to the 1920s with layers of long pearls, colored beads, and tassel necklaces. Evening rhinestones, bib necklaces, chandelier drop earrings, ceramic bangles, and gold snake chain necklaces were also revived from the 1920s and 1930s. The 60s mod jewelry continued as well with round hoops, art deco button earrings, and thin gold bracelets. Gold was especially popular throughout the decade, from gold hoop earrings to gold buttons to gold chains.
The hippies favored chunky jewelry made of bone (faux ivory), wood, yarn, leather, and suede. Some were carved into peace signs.
Teens often made colorful friendship bracelets to give to one another. They also wore mood rings – colored gems that changed with body temperature, predicting what "mood" she was in. When David Cassidy wore a puka shell choker necklace, so did everyone else. A flower pinned to a lapel of a blazer added a touch of the feminine to a masculine-inspired look.
Shop 70s style jewelry here.
1970 Layers of gold chain
1973 bone and Ivory
1973 white plastic ovals
1977 gold earrings
1977 bead necklace
And that concludes this overview of women's 1970s fashion. The 70s were such a huge range of clothing styles that it is impossible to cover every fad and fashion, but these are the most classic as worn by everyday normal woman, teens, and some hippies.
Have a question? Want to know more about a specific fashion area? Just ask us any time.
70s Outfit Ideas