What did women wear in the 1950s? Attending Hot August Nights, the largest classic car show in the west, has inspired me to take a look at 1950s fashion for women. My husband and I usually dress up in vintage or repro '50s clothes before going out to see all the cars. Sadly, not very many people dress up, or if they do it's just in '50s costumes.
The 1950s were a time when fashion exploded into new directions, new colors, and new silhouettes. It is an iconic decade that has spurned a vintage retro fashion revival including Pin Up and Rockabilly clothing. I wrote a detailed 1950s fashion history below to help you not only understand some fashion history, but to also figure out how to put together your own 1950s fashion look that goes beyond saddle shoes and poodle skirts.
Skip the history and SHOP NOW for 1950s style clothing.
Dresses | Evening Dresses | Tops | Skirts | Pants | Shoes | Hats | Gloves | Accessories
1950s Fashion Trends
Tea length swing dresses with petticoats for fullness
Slim sheath dresses and tailored suits
Pencil or circle skirts, poodle skirts for teens
Capri pants, high waisted jeans
Peter pan collar blouses
Twin set cardigan sweaters
Swing coats in winter
Kitten heels, saddle shoes, stiletto heels
Small hats, headscarves, hair flowers
Jewelry: pearls, animal brooches, sweater clips
Matching Accessories: Gloves, hat, belt, handbag
Lingerie: Bullet bra, girdle, backseam stockings
1950s Fashion Dresses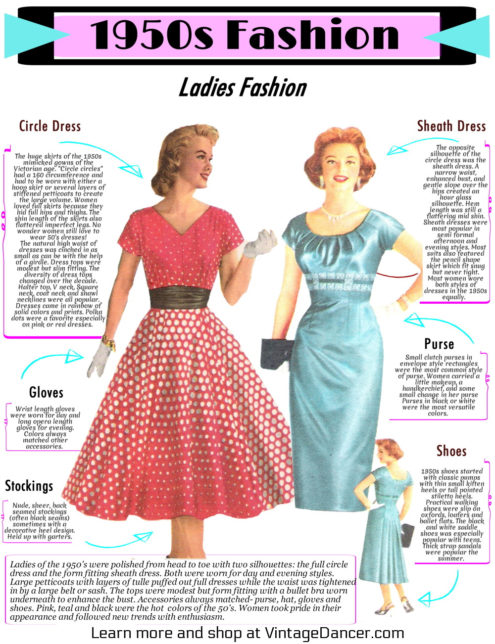 In 1947, Christian Dior turned 1940s fashion upside down with his "New Look." (Watch The Collection, a fictional story based on some truths about this collection.) The New Look was big and bold and utterly feminine. Dress skirts were full and busts were padded to accentuate a small waist. The look was inspired by the Victorian era, but made shorter and sexier while still being modest.
Most women were encouraged to fulfill their role as wife, mother, and homemaker, and to be beautiful doing so. Her appearance was linked to her husband's success, causing a big boom in the clothing industry as women spent more time shopping for the latest fashions. Read more about 1950s women's fashion history.
There are two classic dress shapes of the 1950s. The most popular style today is the full skirted, tea length dress, often called a '50s swing dress. The other very classy look was the form-fitting sheath dress often called a pencil or wiggle dress today. Both styles had modest, snug fitting tops with narrow high waistlines and shin-length or tea-length skirts. Both styles were worn by women equally, although the sheath dress was too impractical to wear as a house dress.
1950s Day Dresses
At home, women set about the day cooking, cleaning, and tending to children. Her housewife dress was a full-skirted swing dress in simple cotton solids, small prints, checks, plaid, and thin stripes. The shirtwaist dress was the most popular design that buttoned up the full length of the front or just the bodice. They usually had short to 3/4 length sleeves, large pockets, a collar, and thin matching fabric belt.
Shop 1950s daytime/ house dresses.
A light petticoat was worn underneath to provide fullness, and an apron sat on top to keep her dress clean. Her shoes were usually flats, but on TV a housewife wore heels. More about 1950s house dresses and aprons.
Leaving the house, a woman could continue to wear her housedress with the addition of fancier accessories, such as a pearl necklace, earrings, gloves, a hat, heels, and a purse. This was acceptable for visiting friends or running light errands. For shopping in the city, meeting up with her husband, going to appointments, or any other public outing, her dress had to be nicer with coordinated accessories.
"Going out dresses" or women's professional clothes could either be swing dresses or pencil dresses. Fabrics were heavier cotton, wool, tweed, rayon, suiting, corduroy, knits, and synthetics that mimicked natural materials.
They were more trimmed than house dresses with contrasting collars, buttons and belts, smaller pockets, dramatic collars, large bows, full pleats, and small pintucks on a bed of solid, texture, florals, dot or novelty print fabrics. This was the dress that made women feel their best.
For my grandmother, it was a simple red, 3/4 sleeve wool swing dress. She wasn't much of a fashionista but she looked good in it, and the red was a bold color choice.
In summer, both house dresses and going out dresses became a bit more "fun." Polka dots, border prints, sailor themes, gingham, pastels, and sleeveless dresses brought women back to the joys of their childhood. Women looked like little girls in big dresses. Most repro and inspired 50s dresses today embrace these more youthful, colorful designs. Shop polka dot dresses.
There were many variations of swing and sheath dresses such as the coatdress, jumper dress, bell, and tulip dress. Learn more about all styles of 1950s dress here.
For mature women and plus sizes there were ample choices in all the latest styles. Learn about the history of the 1950s plus size fashions and fashion for the mature women.
Find the perfect 1950s dress for you:
50s Cocktail Dresses
Hosting a dinner or leaving for a night out on the town, a woman changed dresses again into a swing or sheath dress made of richer materials such as silk, taffeta, lace, damask, and velvet. Black was the safest choice. Nine out of ten women at a party were wearing a black dress. It was so chic and sophisticated and easy to accessorize with pretty jewelry and the latest bouffant haircut.
1957 sleeveless party dresses
1959 pencil and swing cocktail dresses
Party dresses were minimally trimmed. They usually had no collars, buttons, or belts. Necklines were high and round or V for some va va voom. Some had beads or sequins around the neckline or embroidery on the bodice, but otherwise the richness of the fabric and clean simple lines made a cocktail dress classy enough for most parties. Accessories included plain high heels, long or short gloves, a matching envelope purse, pearls or sparkling jewelry, and sometimes a small coordinated hat or hair whimsy.
Learn more about and shop 1950s cocktail dresses.
For hosting a semi-formal party at her own house, there was one unusual style of dress called a hostess gown. Lucile Ball wore a black lace hostess gown in I Love Lucy and every woman wanted one after that. The hostess gown was a cross between a dress, skirt, and capri pants. Capri pants were worn with a split skirt dress over it, exposing the pants below. Overskirts could be long or short, fancy or simple. Men didn't like them ("where are her legs?") but women enjoyed the casualness for a brief time. They also wore jumpsuits without any skirt!
See more examples and a history of the hostess dress here.
1950s Evening Dresses
For very special occasions such as attending a ball or theatrical performance, a short cocktail dress wasn't enough. Long, floor-length ballgowns or long, sexy tube gowns were worn to these fancy events. Rich fabrics of silk, satin, taffeta, lace, organdy, net, velvet, chiffon, and net could either be gathered to create dramatic volume or draped for sleek Hollywood star luxuriousness.
The mermaid gown took roots in the 1950s, as did the Grecian gown with an empire waistband. Some evening gowns could be shorter tea lengths, but they were less common.
For full ballgowns, multiple floor length petticoats or a hoop skirt was worn underneath to create a wide A-line or round teacup shape. Some hybrid gowns featured a smooth draped front and large gathered rear skirt or giant bow. Again, these were styles borrowed from the Victorian era, where bigger was better, although newer fabrics made them lighter to wear.
Most ballgowns were sleeveless or may have had tiny spaghetti sleeves. For modesty, a matching shawl or bolero jacket could be worn over the gown. Over-the-elbow length gloves were a required accessory, as was a statement necklace and earrings.
Prom dresses for teens were the one formal style that was usually a tea-length. They had layers of net, tulle, organdy and other very light fabrics that made them bounce, swish and sway to the dance beat. Strapless, sleeveless and oh-so-fun to wear, they have made fashion comebacks in modern prom circles many times since the '50s. Shop 1950s style prom, party (short) and formal evening gowns (long).
Read more about 1950s formal, party and prom dress history. Also, look here for the history of 1950s wedding dresses.
1950s Skirts and Suits
Chop off the top half of a dress and you are left with a classic 1950s skirt. Full skirts that were made of one large round piece of fabric were called circle skirts. They were worn over several layers of fluffy petticoats to add to the volume. Some were gathered or pleated at the waist to add fullness while others were large A-lines.
Some full skirts had tiers of gathers, called peasant skirts. Some had border prints on the lower 1/3 edge of the skirt, too.
Plaid was a popular print in fall and winter, with pastel shades for spring. Many skirts had hidden pockets on the side while some had large pockets on the outside, trimmed in contrast piping.
A blouse was worn tucked into the skirt band. A wide cinch belt offered a contrast between the blouse and skirt and also helped keep the blouse tucked in neatly. Shop belts.
Poodle skirts were circle skirts, too. They came in more fabric than just felt, although thick felt hid hoop skirts nicely underneath. Poodle skirts were embellished with other cute motifs like mice, dogs, cars, telephones, and even martini glasses. They were mostly worn by children and young teens, although they were not nearly as common we think they were. Shop poodle skirts.
The iconic teenager sock hop outfit with a poodle skirt consists of a white blouse or twin set sweater, neck scarf, cinch belt, and black and white saddle shoes. See more history and ideas for attending a sock hop here.
Pencil skirts were popular with women of all ages. They hung straight from the high waist to the mid-calf with a split or kick pleat at the back to make walking easier. Fabrics had no stretch so skirts were stiff and required women to walk with a wiggle, hence the modern name: wiggle skirt. Most pencil skirts were solid colors or plaid prints. They usually came with a matching short suit jacket, but could also be worn with a long sleeve blouse or cardigan sweater.
Learn more about the variety of 1950s skirts here.
Women's 1950s suits with either the swing or pencil skirt are popular clothes for professional women who want to wear vintage everyday. Read this article about 1950s women's suit history.
1950s Petticoats
The 1950s full skirt required at least one but more likely several layers of petticoats or a hoop skirt to be worn underneath. These underskirts were made of layers of ruffled netting that added volume under swing skirts. They were starched, dried upside down, and worn in multiple layers to achieve maximum fullness.
Many women today skip the petticoat when wearing '50s style dresses because they itch like crazy and don't fit well in modern small cars with bucket seats. However, to get an authentic look, you will need a nice full but soft petticoat worn over a slip to protect your legs. The pencil dress is enhanced with shapewear to smooth or a boned corset to make hourglass curves.
Learn more about and shop crinoline petticoats.
1950s Blouses, Tops and Shirts
Skirts and pants were paired with button-down blouses. They fit snug and were always worn tucked in. Bunching at the waist was a constant battle (tucking them into pantyhose will help hold them down).
Blouses usually had collars in classic point, boat neck, and round Peter Pan shapes. Popular colors were pink, teal, red, baby blue, black, and white in solid or gingham checks, small prints, and polka dots. Patterns were very popular, especially in the summer.
1957 Short Sleeve Blouses
1957 3/4 Sleeve Blouses
Some blouses had vertical pintucks, small ruffles, big bows, small embroidery and white, pearl or contrasting color buttons. Sleeve length ranged from sleeveless in summer to short puff sleeve, 3/4 sleeves, and long sleeves with a wide cuff wrist. There were so many varieties to choose from!
Knit tops were an alternative to tailored blouses. They look like short-sleeve sweaters with a pullover or partial button-up front. Some had classic point, crew or roll collars. They were usually worn over a skirt or pant but were short, just topping the hips.
The dolman sleeve knit top was very popular in the middle years. Striped T-shirts were usually worn with jeans in the summer. Turtleneck shirts became fall fashion essentials in the later years.
Wearing a neck scarf with a knit top or sweater was very chic! The twin set, matching cardigan sweater worn over a knit top, was and still is a 50s classic. Read more about 1950s blouse history.
Shop 1950s style tops and blouses.
1950s Sweaters
Ladies' sweaters (jumpers) in the 1950s became thinner and shrink proof thanks to new synthetic materials. The fit also tightened up to emphasize a wasp waist, and bullet bras enhanced the bustline. The term "sweater girl" applied to young women whose sweaters were modest yet sexy.
1957 sweater twin set and 3/4 length knitwear
1957 sweaters and cardigans
There were chunky knit sweaters and button-up cardigans, too. Wearing textured material was a big trend in the 1950s, so thick woven knits, handmade at home, were welcome in women's fashion.
Short sleeve knits and snug blouses were worn under sweaters, yet they never appeared bulky. Showing off the figure was more important than keeping cozy. Read more about 1950s sweaters and cardigans (jumpers) here.
1950s Coats and Jackets
While most sweaters were light and thin, coats were big and bulky. Long winter coats needed to fit over big skirts yet still maintain the clean line of 50s fashion. Winter overcoats were made of wool, camel hair, fleece, tweed, fur and cashmere.
The swing coat or princess coat was a general name for a winter coat that flared over the dress in a tent-like shape, buttoning up the front with big oversize buttons, and topping with a wide collar.
The swagger coat was fitted at the waist and flared out over the skirt echoing the swing dress underneath. The trench coat continued to be worn in the 50s with a wrap-around belt and very wide lapels. Raincoats were often made in the trench cut.
Coats worn over sheath dresses fit long and tubular with a slight tapering at the shins.
Short coats called box coats were half the length of long coats. Most were quite wide and looked very dramatic when worn with a pencil skirt.
Short jackets were a newer style in the 1950s. There were tailored jackets worn as a suit set or casual jackets such as the parka, leather bomber, or rain jacket that were a stylish, warm and less bulky option to the overcoat. Many jackets came down to mid-hip level, had fur collars, big pockets, and a tie or buckle belt.
The shortest jacket, the bomber or motorcycle jacket, was adapted from menswear but updated for women with pastel colors and plaid prints. Some were made of leather, others of satin such as the famous Pink Ladies jackets from Grease.
Learn about 1950s coats and jackets and shop for 1950s coats and jackets like these:
Ladies' Pants and Shorts
Ladies' 1950s fashion wasn't only dresses and skirts. Wearing pants and jeans, not just at home, was a growing trend, although not without some rules. At first, wide-leg and high waisted trousers were trendy, just as in the 40s. But the style was narrowing down in the hip and legs so that it showed off a woman's figure.
Long pants were called cigarette pants. They had a high waist, rounded hip and a slim leg that ended above the ankle. They came in solid neutral colors but also fun prints such as plaid, polka dots, leopard, and vertical stripes.
The capri pant was the same shape but came up to mid-calf and often had a thin belt at the waistband. Capri jeans were cuffed, sometimes in a contrasting fabric that matched the shirt.
What about denim jeans? Yes, they were worn too, but mostly by teens, while gardening, or on ranches. They were made of dark blue denim, had rolled cuffs, were lined in a contrasting fabric, and had contrast stitching giving them a western look. Read more about the history of western jeans.
Read more about women's pants, jeans and capri history. And shop 1950s pants, capris, jumpsuits and jeans.
There were other bottoms in between pants and shorts. Clam diggers or pedal pushers were wide leg, knee length pant/shorts. Bermuda shorts were just above the knee and short shorts were a little higher than that.
Shorts usually had a 2-inch cuff and side slash pockets. Shorts and pants also zipped up the side, not the front, which was less "like men's trousers." Short shorts became very short and tight right at the end of the '50s but only for models, movie stars, athletes, and pin-ups.
Read more about the history of 1950s shorts and shop 1950s style shorts.
Playsuits and Swimsuits
In summer, there were many options to dress casually at the beach, on vacation, or in the backyard. The playsuit, called a romper now, was a one-piece top and shorts item that usually came with a matching button-down dress or skirt to wear over it. The dress or skirt provided modesty when not actively playing on the beach or by the pool.
Jumpsuits were short sleeve or sleeveless rompers with long pants or more often, pedal pusher length pants. They could be worn alone or with a skirt over them.
Short beach robes, vests, and smocks were other coverups for the pool or beach. Playsuits came in fun summer prints like red and white picnic gingham, blue and white "sailor" themes, and tropical flora and fauna prints. These same prints were designed into cigarette or capri pant jumpsuits, short overalls, jumper pants/shorts and swimwear. Read a history of the vintage playsuit here.
1950s swimsuits were the last decade to fully embrace modesty yet remain sexy and flattering. Swimsuit tops had full coverage with built-in cups to lift and enhance. Ruching across the body maximized the hourglass shape while a skirt across the hips covered up body parts in the front and sometimes the rear too. The bubble-skirted swimsuit or the swim dress enhanced the lower half while strapless swimsuits called attention to the upper half. Learn more about 1950s swimwear history.
Two-piece bikini bathing suits grew in popularity during the '50s. They were very modest by today's standard, with only a few inches exposed between the bikini top and skirted bottom. The rise of the bottom always covered the navel. Currently, high waisted vintage swimsuits are back in mainstream fashion! Shop 50s swimsuits.
1950s Shoes
Black and white saddle shoes were all the rage for teens in the 1950s, but women wore them too. They looked best with felt or cotton circle skirts and denim pants. Other casual shoes included white flat lace up sneakers like Keds classic shoes, slip on penny loafers, moccasins, low heel Mary Janes, lace up Oxfords, and black ballet flats with a small bow on the toe.
1957 loafers, saddle shoes
1959 flats
In summer, espadrilles and sandals were on every woman's feet. Espadrilles had a canvas body and long laces that crisscrossed up above the ankle. Sandals could be combined with heels or flats. They featured many narrow straps or cutouts for ventilation.
The wedge heel shoe could be casual or fancy, as was the platform heel shoe. Wedge and platform soles were seen on Oxfords, loafers, sandals, ankle strap pumps, and peep-toe heels.
Semi-formal "outing shoes" would have been pumps or heels. Heel height was usually 1.5 to 3 inches with small, narrow "kitten" heels. Many shoes had decorative elements on the toe such as bows, crystal clips, ties, or at least an interesting painted design. For evenings, pumps were much taller with thin "stiletto" heels. Strappy sandals were also stylish evening shoes, especially in black but teens favored clear pumps for a Cinderella look.
1959 short heels
1959 tall heels
Learn about 1950s shoe styles here and shop for shoes here.
Socks & Stockings
Colored or white fold down bobby socks were worn with casual shoes but otherwise, most skirts and dresses needed a nice pair of stockings. Stockings came to thigh height and were held up with garters. Stockings had seams, notably black seams. Nude would be fine too, but '50s women loved their stockings to stand out and attract attention. Many stockings had heel designs such as Cuban heels, pointed heels, bows, arrows and other cute designs on the back leg or ankle. Learn more about 1950s stockings here and socks here.
Shop 1950s style seamed stockings and socks.
1950s Lingerie
The 1950s silhouette wasn't a natural shape. It needed some help in the form of foundation underwear, bras, slips, and petticoats. The bra, especially the cone-shaped bullet bra, gave women the protruding bust that balanced out the wide hips. They could be strapless to wear with evening gowns and sheer tops, or with straps for daywear.
There were also falsies, bust pads, to give women what they naturally lacked. And if what they lacked was a flat tummy, well, then a boned corset or elasticized girdle would help with that. These body shapers flattened, smoothed, and held up stockings all in one. Some had built-in bras for the ultimate one-piece foundation support. Read about 1950s lingerie.
Over these support garments came a high waisted cotton or silky soft panties. A slip, either full or half size and trimmed in lace, wasn't just pretty — it helped clothing hang smoothly on the body.
Nightwear such as long nightgowns, short babydoll nighties, pajamas, robes and peignoir sets brought glamour into the bedroom. Silky gowns trimmed in lace and marabou feathers with a matching pair of mule slippers were what all the Hollywood ladies were wearing. More about 1950s sleepwear and loungewear styles.
1950s Fashion Accessories
No 1950s woman could leave the house without the perfect combination of accessories. Matching accessories were a big deal, although there were a few years where choosing a complementary color accessory was preferred over matching. Black, brown, or white accessories were the most versatile for any outfit.
1950s Hats
Most mature women still wore hats in the 1950s. They were small flat straw or felt hats with adornments of flowers, feathers, or bows. Decorations were simple. Hats were designed with light materials so that they perched on top of the latest bouffant hairstyles. Some were crescent shapes that saddled the head. Others were plate-shaped or round bowl-shaped. Lace, velvet, felt, fine straw, brushed fur, and mesh provided the foundation for most small hats.
Small hats with veils are often called fascinator hats today, a term that was not used in the 1950s. There were also whimsies (I love that word), which were headbands or clips of hat-like materials that gave the suggestion of a hat but it did not compress the hair like most hats did.
Other '50s hat styles included the pillbox hat with tall, rounded edges. The beret made of knit or fuzzy wool circled the head on teens and young women. Plate or saucer hats were the flattest hat and created a halo effect, framing a woman's face and showing off her dramatic makeup. But it was the bucket hat, called a cloche hat, that was made famous by Audrey Hepburn. It sat on top of the head and added height, yet allowed hair to peek out and around the neck.
In summer, the cartwheel hat or garden hat covered in flowers mimicked the Edwardian era picture hats (think Kentucky Derby style). They were big, with low crowns and wide brims perfect for sunshade.
It is still very easy and affordable to find a vintage hat on Etsy or eBay.com as well as new vintage inspired pillbox, fascinators, and sun hats. Read more about the history of 1950s women's hats.
An alternative to a hat would be a flower to one side or on the center of the crown. This is especially popular with the pin-up look. A hair bandana or silk scarf tied up around the entire head or like a headband was another casual hair accessory. 1950s teenagers also wore wide headbands to hold back long hair and emphasize the flip hairstyle. Shop 1950s hair flowers and accessories.
Gloves & Handbags
The other item a woman never left home without was a pair of gloves. Again, white was the best choice for spring and black for winter, but matching gloves to hats and purses was also popular.
Gloves were a cotton material that was thick enough to maintain shape. They were wrist length with straight, scalloped, or ruffled edges.
I love vintage gloves, but beware of buying any without trying them on. Women's hands were smaller/thinner back then, so most gloves don't fit modern hands well. A local thrift store or vintage clothing shop will give you the best selection you can try on.
Shop new vintage style gloves for a better fit. Learn more about the history of gloves, too.
A matching hobo handbag/purse was the iconic style of the 1950s, but it was the novelty bag made of unusual materials (plastic, straw, fabric, or mesh) and in unique shapes (boxes, baskets, or satchels) that have made a lasting impression.
1950s purses are usually small enough to hold just a few key items, although many reproduction bags are bigger for all the stuff we carry today.
In the evenings, small wrist strap or clutch bags with sparkling clasps were elegantly paired with black party dresses. Day or night purses matched other accessories such as shoes, belts, gloves, or hats.
Learn about 1950s purses here.
1950s Jewelry
Pearls, pearls, pearls. A small chain of pearls and matching pearl stud earrings were all a woman needed for jewelry. There were plenty of other styles to wear such as beads and stones in mid-century turquoise and coral colors.
Clear or colored plastics, animal shapes, fruit, and flowers were shaped into brooches pinned to dresses or hats. Flowers were also the main theme with matching necklace and earring sets. Bakelite bracelets were cheap and colorful arm decorations.
Most women did not pierce their ears, so wearing clip-on earrings was a must. Large cocktail rings dominated ladies' fingers, except for wedding rings.
In the evening, rhinestones sparkled against black dresses. Textured gold pieces were also trendy for day and evening looks. Learn about more 1950s jewelry styles. Shop 1950s style jewelry.
Read more articles on 1950s fashion here.
1950s Makeup and Hairstyles
50s Makeup
The 1950s makeup look is a fun one to recreate. While it's mostly based on a woman's natural beauty, the eyebrows are shaped into a nice arch, the eyes exaggerated with the iconic wingtip, and lips are soft and full. Learn how to recreate a natural 1950s makeup look here.
Hairstyles were inspired by the Italian cut, a short fluffy curl set. There were also style for long hair, shoulder length hair and very short pixie cuts. Learn more about 1950s hairstyles.
1950s Italian Hairstyles
1950s pageboy hairstyles for medium length hair
Shop 1950s Style Clothing
Need some 1950s outfit ideas? Try one of these combinations or read this article with even more 50s outfits and this one too.
Day dress (polka dots?), cardigan sweater, saddle shoes, white socks.
Outing dress, matching belt, hat, gloves, kitten heel shoes.
Skirt, blouse, cinch belt, Mary Jane shoes, small hat.
Cocktail dress, pearls, high heel pumps, long gloves.
Cigarette or capri pants, knit top, ballet flats.
High waist shorts, halter top, wedge sandals, hair accessory.
More: Dress | Evening Dress | Tops | Skirt | Pant | Shoes | Hat | Gloves | Accessories