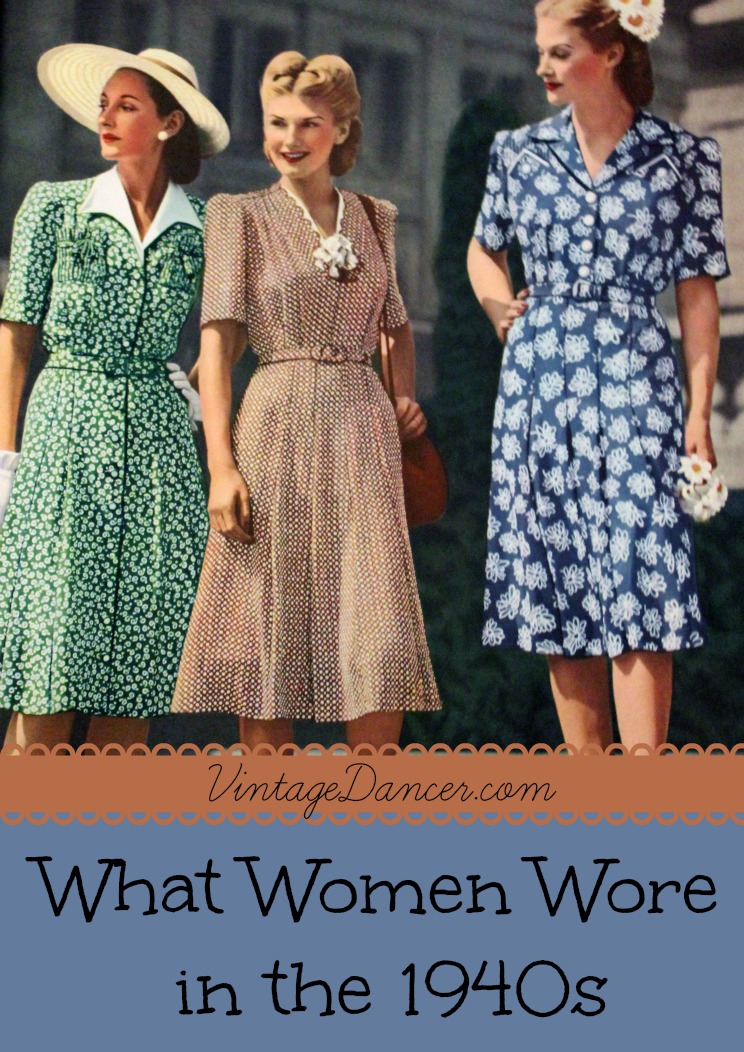 What Did Women Wear in the 1940s? In a nutshell, women's 1940s fashion was about creating an hourglass silhouette with masculine details: padded shoulders, nipped-in high waist tops, and A-line skirts that came down to the knee. This was the everyday shape for clothing, from suits to dresses. Even pants had a similar high waisted, wide leg shape.
Skip the history and shop for 1940s style clothing:
Dresses | Shoes | Pants | Coats | Tops
If a woman was not naturally an hourglass shape, the clothes were designed to help her achieve the look. Being put together, cheerful, and practical was the job of women during WWII. 1940s fashion accessories such as hats, gloves, handbags, and jewelry completed an outfit, while natural makeup with bright red lips painted a happy face during difficult times.
1940s Fashion Trends

1940s Women's Dresses
With the start of the war and strict rationing on fabric, dresses in the 1940s became shorter. Whereas the 1930s featured dresses that went down to mid-calf, the 1940s brought them up to knee length. The war also affected the top of the dress.
Women's clothes took on a masculine militant look with the invention of shoulder pads. Every dress, blouse or jacket was fitted with shoulder pads that extended just past the edge of the shoulder. This made for a boxy or square neckline and shoulder angle. Sleeves were often puffed up a bit with gathers at the top and extended down to just above the elbow.
Advertiser
The neckline of the 1940s dress came in a variety of cutouts. They could be square, slit, sweetheart, keyhole, shirred, cross front (wrap), or even V with shirtwaist (button down) tops. There was no cleavage! All dress top designs were modest, revealing very little skin compared to today's fashion. Learn about common 1940s dress styles.
Evening dresses were the exception. They were spaghetti strapped or halter topped that revealed shoulders and chests but only mild cleavage. Skirts were long and sleek in the early years and full by the end of the decade.
Later in the 1940s, more fabric could be used and more fabric choices were available. In order to forget the depressing war, women embraced colorful patterns with contrasting trims. Fabric material was usually rayon, a newer synthetic invention. America cotton was also a favorite for house dresses. The material was light and airy. Stiffer, wool-like fabrics were used on suits and work wear.
Plus size fashion in the 1940s was not something overlooked like it had been in previous decades. Most women were not the ideal curvy hourglass shape. As women matured, bodies matured, too, and women found themselves shopping for clothing with a different eye on fashion.
Catalogs and department stores now carried "stout" size clothing lines with dresses, tops, coats, and shoes in designs that were more flattering to the fuller figure. Beauty tips and fashion advice books were full of Do's and Don'ts for dressing a woman's best.
Read fashion advice for plus size women here. Shop 1940s plus size fashion here.
1940s Dresses for sale:
1940s Women's Suits
The shortage of fabric also caused the popularity of the two-piece suit known as a Victory or Utility suit. Women could mix and match skirts, blouses, and jackets for a new outfit every day. Even after the war, the suit remained popular due to its comfort and practicality.
Suit skirts were A-line, not pencil. This means they flared out gradually from the hip to the knee. Dresses from the early years didn't have any pleats or gathers because it wasted fabric. The later '40s had some pleats and a wide "A" shape and even included some pockets.
Teenagers were the biggest fans of skirts. They loved plaids and stripes and full skirts making the latest fad — swing dancing– easier to move in.
Learn more about 1940s skirt history and shop 1940s skirts.
Finally, the suit jacket topped the outfit. Jackets were of the same material as the skirt but could be mismatched if that was all you had. They had the same wide padded shoulder, high neckline, and nipped in waist, with only a slight flair at the bottom. The lower edge of the jacket came to mid hip length.
Jackets were button down and featured a variety of lapel width, points, and shapes. It wasn't necessary to wear a blouse under a suit jacket but was often more comfortable.
The bolero jacket was a nice, short, rounded edge jacket that was worn over a blouse. They rarely buttoned in front– preferring to hang open and show off the blouse. Sleeves were always long and narrow. Learn more about women's 40s suits.
1940s Blouses
Blouses were the next part of a suit. They could also be worn plain or with a light cardigan sweater over them. Blouses were either a solid color or a fun striped pattern. They could be short sleeved like dresses, or long sleeved with puffy gathers and tight wide cuffs at the wrist. They usually buttoned down all the way and had a small V-neck or round Peter Pan collar neck opening.
Learn more about and shop 1940s blouses.
1940s Pants
Pants or trousers were primarily a menswear item up until the 1940s. Women working in factories needed safe clothing that wouldn't snag in machinery. At first, women just wore men's pants. Later manufactures made pants for women, although they still looked very masculine. They were very high waisted, button or zippered down the side and had full legs with wide cuffs at the bottom. They were made of cotton, denim, or wool blends.
Women wore them at work, but they soon became a part of their casual wardrobe at home. It didn't take long before women were wearing pants in public, although it would take many more decades before pants were allowed at school or professional jobs.
Overalls and coveralls were another workwear-turned-sportswear option. Made of blue denim or sturdy cotton, they have become a symbol of the 1940s Rosie the Riveter. In the UK, it was the landgirl who wore overalls and trousers while farming. Learn the history here.
Read more about 1940s women's pant styles or SHOP for 1940s style pants
1940s Coats
Early 1940s coats were very square and usually plain. They had a few large buttons down the front, plain or cuffed narrow sleeves, and a variety of necklines. They were long, often down to the knee, to keep a woman warm and covered up. Shorter box coats hung to the hip in a wide cape like fashion with big bell sleeves.
Fur trims were still very popular like in the '30s. Fox was the best and other furs were dyed to look like fox. For formal wear, fur stoles and capes were a must.
Read more about 4os coats and jackets or shop 1940s women's coats.
1940s Fashion: Shoes
Shoes of the 1940s lacked the elaborate detailing of the '30s and were mostly plain, sturdy and "chunky." What makes them special is not the style but the material. Leather was needed for the war, so shoes came in velvet, mesh, reptile skins, and even all wood (clogs). Heels were short and thick in the early '40s and slightly thinner in the late 1940s. The latter shoes were called pumps.
The 1940s were notable for the popularization for the wedge or wedgie. The wedge sole was all one piece, gave moderate height, and was considered safer than tall pumps. They came in solid slip-ons or fun summer sandal types. The peep toe was one common style. It was a small slit in the front of the toe. Peep toes could be seen on pumps, sandals and wedges.
The more casual style of shoes were Oxfords and saddle shoes. These single or two tone shoes resembled men's shoes with a rounded toe. Slip on loafers were an alternative to Oxfords. They were casual, comfortable and all the rage with teenagers and working women.
Read more about 1940s Women's Shoe Styles and shop for 1940s style shoes.
1940s Swimsuits and Beachwear
Swimsuits came in one piece and, for the first time, two pieces. One-piece suits were tighter fitting than in the '30s, and had padded bras for support and thin shoulder straps. The neckline was a V but revealed little cleavage. A halter top style was very popular as well. The suit bottom came to the top of the thigh in either a skirt shape or slightly loose shorts.
The two-piece suit was like the one piece but with the middle cut out. The pants came up high above the belly button with only about 4 inches of space between the top and bottom. The Bikini invented in 1946 was similar in style, but tighter and lower on the waist. They were too revealing for most women's taste at the time.
Read more about the styles of 1940s swimsuits and shop for vintage inspired swimsuits.
Beachwear, called playsuits, were really just very short dresses that wrapped over a swimsuit. They were button down, loose-fitting dresses in light cotton. They were also high waist shorts, with a swimsuit style halter top. These were mostly worn by teens and younger single women. Mature women had play clothes as well but they were longer and more conservative. More about playsuits and summer clothes.
1940s Hats
Headwear of the 1940s was very diverse. There were only a few new styles that became trademarks of the 1940s. The first was the beret– a one-piece round, flat, French inspired hat that sat directly on top or angled off to the side.
The next hat was the turban– a piece of fabric wrapped around the head and decorated with flowers, feathers or jewels. Small hats with flat brims with veils were another trademark style. They were not practical for sun protection, merely decorative. The ladies' fedora hat was one of several felt hats that took inspiration from men's hat styles.
1940s beret and tams hats
Learn about the history of Turbans and other 1940s hats styles
Working women had to keep their hair tied back. They wore hair snoods, knits or bags that gathered hair back and out of the way or scarves tied around and up. Rosie the Riveter made the hair scarf a recognizable icon of the 1940s. They were made of silk with a variety of fun hand-painted patterns.
Hair flower clips were another summer decoration for young girls, pin ups, and women looking to dress up a party dress. Small daisy flowers or big chrysanthemums made of rayon or silk were often handmade at home. Shop hair flowers, snoods, clips and more.
Women's 1940s hairstyles were designed to be worn under hats as well as be beautiful without. The length grew out from the short 30s waves to shoulder length loose curls. Teens and young women wore their hair down with the sides rolled and pinned away from the face. Mature women had hair styled into Victory Rolls, soft waves, big rolls, and tucks that brought the hair up to new heights while framing the face softly. Learn more about '40s hairstyles.
1940s Gloves
Gloves in the 1940s continue to have the gauntlet mid-arm length and shape during the war years. The elaborate trim was removed and the overall fussiness of the 1930s was replaced by plain gloves once again. Gloves were usually only worn for semi-formal occasions such as an afternoon gathering, shopping, visiting friends, or going to lunch. Colors usually matched just one accessory such as a hat or belt. Neutral colors were preferred: black, brown, navy, tan, and white.
In the evenings, long opera gloves were often worn with beautiful ballgowns.
Learn more about vintage glove history here and shop for vintage inspired gloves here.
1940s Jewelry
1940s women's jewelry played an important role during the somber wartime. Colorful bold bead necklaces, large floral brooches, and chunky earrings added cheerfulness to otherwise plain clothing. Patriotic themes such as a V for victory, flags, and red, white, and blue gems kept women focusing on their duty. Jewelry became affordable with new plastics like Bakelite and settings that required less metal. The classic pearl necklace never went out of style.
Read more about 1940s jewelry styles.
Handbags and Purses
With a duty to work, volunteer, or manage a household by oneself, women needed a handbag that carried more than the small 1930s clutches. Day bags were inspired by military service messenger bags with long shoulder straps that were carried over the shoulder or across the body when riding a bike. For something prettier, a large (at least 12 inches) flat envelope purse in plain black or brown leather or plastic held a woman's growing collection of beauty products. The ruched or scallop treatment on bags is an iconic style of this decade.
Evening bags remained small and shiny with black satin as the preferred material. Sparkle in the form of beading or sequins on the clasp added just a touch more elegance.
After the war, purses took on a New Look with new bold colors– red, green, yellow, and a return to geometric shapes (box purses and circle vanity bags).
Read more about and shop 1940s handbags
More accessories– Learn about 1940s belts, gloves, head scarves, ect
1940s Bra, Underwear and Stockings
Ahh, the undergarments or foundation garments were the soul of 1940s fashion. They created the hourglass shape with smooth lines that were critical to '40s fashion. They were also very uncomfortable. Girdles were the worst offenders. They looked like granny panties but with much tighter, flatter fronts that sucked in every belly bump and lump. Bras were large with full back coverage. They encouraged a natural rounded shape. The pointy bullet bra came much later in the '50s. A full slip was usually worn over the underwear to keep the shape smooth.
Stockings are what kept women from feeling naked with those shorter dresses. Nylon was invented prior to the 1940s and quickly replaced silk stockings. Both materials were needed for the war, and women had to go without for a short time. Stockings were a shade darker than natural skin for fair skinned ladies and any shade darker or lighter for bronze skin tones. They usually had subtle brown seams down the back, but seamless stockings were increasingly common by the end of the decade. Stockings only came up to the thigh and were fastened on by garters.
Read about the history of 1940s stockings here.
Socks were popular with working women and teenagers. Bobby socks with saddle shoes are an icon of the 1950s, but were really started in the 1940s. During the war, women wore patriotic colored socks instead of nylons, even with heels.
More 1940s Fashion
Creating 1940s Outfits
There are endless possibilities using new, thrifted or vintage clothes to recreate a style for a 1940s themed event such as a swing dance, WWII remembrance day, or a pinup photoshoot. Be sure to look at these articles to help you plan the perfect look:
Shop 1940s Style Clothing
Dresses | Tops | Pants | Skirts | Coats | Shoes