Inspired Mad Men Suits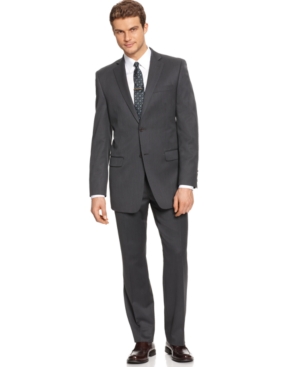 If you love the TV show Mad Men, you've probably been just as enthralled as the rest of the country by its realistic portrayal of the fashion and style of the time. There were certain items of a man's suit in the '60s that were ubiquitous. Most men wore suits every day, and as in earlier decades, they also wore hats. Whether you were at work, home for the evening, or out to a social event, the suit was the uniform for the well-dressed man of the time. Here are a few essential elements of authentic Mad Men suits:
Thin Lapels – 'Thin and narrow' was the driving force behind Mad Men era clothes in the early '60s. Suit jacket lapels were thin, a distinct difference from the wide lapels of earlier decades. Fashion forward men of the time made sure to buy their suits with thin lapels.
High Waters – It's only been in recent years that pants have been worn as long as they currently are. In the early 60s, pants ended at the ankle or an inch or so above your shoe. This created the high water effect that is so dreaded these days, but had the advantage of showing off the socks.
Cuff Links – Cuff links were a common accessory for the suit wearing Mad Men. Clothing for men was fairly limited as far as accessories go, but cuff links are the one element that was still popular.
Thin Ties – Thin, narrow ties were popular during the era of the Mad Men. Ties were often only about 3 inches wide, a big departure from the wide ties of today.
Fedora – You can't buy Mad Men clothes without a fedora . At the time, everyone wore a fedora, and they are the quintessential addition to any great Mad Men style outfit or suit. Fedoras are almost timeless in a way, and were worn by men for many decades as proper head attire.
When you are looking for the best advice and information about vintage clothing, The Vintage Dancer is where you'll find it. We are happy to educate and inform on trends from time gone by, and we take the time to locate the best of the web's new vintage clothing offerings and post them here for you to see.