Read F. Scott Fitzgerald's classic book,

The Great Gatsby

,
with a spotlight on the fashions of the roaring twenties
The Great Gatsby in Fashion,  Only  $2.99 !
The Great Gatsby, by F Scott Fitzgerald, full text
33 additional insights into the fashions and culture of the roaring twenties
Over 60 illustrations of men's and women's clothing from the 1920s
Instant Download as a PDF, or .mobi (Kindle)
Also available on the Amazon Kindle store here and as a paperback book for $8.99 (only excerpts from the Great Gatsby novel are included in the Kindle and paperback Amazon store version)
The love affair with one of the greatest American novels ever written has just as much to do with the dazzling fashions of the 1920's as it does with great story telling. F. Scott Fitzgerald, a dapper dresser, and his wife, Zelda, a notorious flapper, experienced the high life of fashion and culture in the twenties. It was only natural for Fitzgerald to include detailed descriptions of the clothing each character wore. It is in his observations of their dress that he unveils the characters' motivations and morals that play a critical part in the novel. Fitzgerald's audience in 1925 would have understood what color a "gas blue" dress was and would have known the sound of "clicking pottery bracelets." Today's readers miss the cultural context of those fashions, until now.
Debbie Sessions brings The Great Gatsby's Jazz Age alive with illustrations and historical annotations of the clothing described in the novel. Sixty images of 1920s dresses, suits, shoes, hats, hairstyles and the people who wore them are included alongside descriptions of the clothing worn in the summer of 1922, the year in which The Great Gatsby is set. Additional cultural insights of the life and times of the roaring twenties are blended into the annotations creating an insightful view of the '20s wealthier class.
Read it now for only
$2.99 ebook

($8.99 paperback book)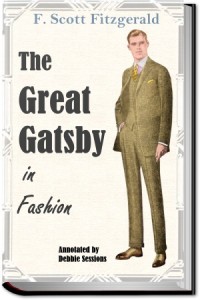 If you need another format please email help @ vintagedancer.com
* Satisfaction guaranteed. If you are not happy with your purchase for any reason simply contact me for a refund within 30 days. If you love the book please leave a positive review on the Amazon store page or Etsy store page (purchase via Amazon not necessary to leave a review)
Other Books by the VintageDancer
I have written extensive fashion history and style advice in a few published ebooks and free email courses for other decades of fashion:
My first book is the 1940's Style Guide: The Complete Illustrated Guide to 1940's Fashion for Women and Men.  It is still available as an eBook ($9.99)or printed book ($14.00). Since its first publication, I have put most of the chapters online and revised/updated them. You can read them in the 1940s Style Guide email series for free. I leave the book available for sale for those who want to carry a copy with them.
To go with that I also have a free mini book 1940s Fashion for Your Body Type (women). 
I then moved away from the 1940s and went back to the 1920s with another free mini ebook 1920's Fashion for Your Body Type (women) followed by, you guessed it, 1920's Style Guide, but this time I didn't publish the book (yet). Instead, I turned it into a free blog series you can receive by email here.  The series covers fashion history, cultural history, and dressing advice for both women and men. It arrives to you in order so that you don't miss a single article. It is like reading the book one chapter at a time.
I also have a 1950s Style Guide email series. This one is only about women's fashion in the 1950s. Over 40 articles delivered to your inbox every other day.
Curious about all fashion decades? Subscribe to the regular blog list which shares new articles to your email. Topics range from Victorian to 1970s vintage fashion for women and men.