The Bay Area Horseless Carriage Club reached out to me about giving a digital presentation of Edwardian era (aprox. 1900-1914) motoring clothing for women and men. The topic of what to wear when driving a car or fixing a car was a new one to the era. Wealthy men were flocking to the nearest dealerships to pick up a new car for fun or transportation. Many gentlemen hired Chauffeurs to get about, while others enjoying learning to drive. In the cities, taxi drivers and hired cars were the way to travel about the town without needing to own your own car — an affordable option for the middle classes.
Everyone involved in the driving, building, fixing, and selling of cars had their own set of clothing to wear. For men, these varied little from their day-to-day clothes. While there were top of the line clothing designers making specialty clothes for the wealthy new motorist, it was hardly a requirement to wear anything unique. Motoring clothes were repurposed from existing styles with some considerations for weather, wind, and class.
Are you motoring with an Edwardian car? Then you probably want to dress the part yet stay within budget. You can spend a small fortune on authentic or custom made Edwardian clothing, or you can begin with repurposing new clothing into approximate styles. We will explore all of these options in this article, but first, a little Etiquette before you hit the road:
Motoring Etiquette
Learn the rules of the road for each state
Don't take intoxicants before driving
Don't let your car smell of offensive odors or leak oil
Don't use the horn too liberally
Beware of children in the city, they are fond of darting out in front of cars or throwing things at them
Slow down around horse carriages in the country. If you hit an animal on the road find the owner and compensate them.
If in a car accident or you hit a person, exchange information, seek medical help if necessary. "Consideration and kindness will always act as a mitigating circumstance when it comes to a trail jury. Brutality is a boomerang."
Don't get into a heated argument with a police officer.
— Sigmund Krausz, 1906, Krausz's A B C of Motoring
Chauffeur Uniforms
The first motoring outfit we will look at is the hired personal driver, the Chauffeur. His uniform / livery was taken from military uniforms, combining a single or double breasted hip length coat and a pair of breeches (knicker pants, knee pants, jodhpurs) with either tall boots or puttee leggings (leather gaiters) and a traditional driver's cap.
Chauffeur's Uniform Sources
Taxi Drivers, Hired Cars
The next outfit is for hired cars /taxi drivers who mostly worked in busy cities. They could have worn a Chauffeur's uniform, but more likely wore the nicest suit they could afford. These were low to middle class men who were paid decently well for their class. Each taxi stand may have had requirements for a specific uniform, while independent drivers could choose their look.
Edwardian men's suits were usually dark shades (blue, brown, grey, almost black) with a matching vest, coat, and long pants. The men pictured in the center (below) were on break/at the garage with coats removed and sleeves rolled up – a great semi-casual look for warm summer days. Shop Edwardian style suits.
Flat caps/newsboy caps were worn instead of Chauffeur style caps. Shop hats.
A long wool overcoat or light duster coat may be worn over the suit. Shop coats.
Specialty motoring suits featured more pockets than a standard business suit and had a belted back.
Special leather motoring vests with or without attached sleeves and a knit back were popular in the early years to protect against wind in open air cars. Many taxi drivers wore these in summer instead of a coat.
Shoes were usually ankle height lace up boots. Shop boots.
Advertiser
Mechanics
The working poor and semi-skilled tradesmen took jobs in auto manufacturing, auto repair, delivery drivers, and sales (tires, parts). Chauffeurs and hired drivers also wore working men's clothing to perform routine maintenance and on-the-road emergency repairs. There were a few types of working class outfits to choose from depending on occupation and affordability.
A salesman wore a suit (optional coat), flat cap, and a cloth or leather apron to sell tires and auto parts. While he was not the one to install tires, his apron protected him from the dirty environment. (Gasoline/petrol or ammonia was used to remove grease stains).
Mechanics wore a coverall over regular clothes to protect them from grease and dirt. Car drivers usually kept a coverall in the car at all times. The coverall was very ill fitting, loose and boxy. It was made of an olive drab khaki cotton or indigo blue heavy denim. They buttoned up the front with a faux belt at the waist. One or two pockets were on the chest with a high buttoning rounded collar.
Overalls in grey, black, brown, or blue hickory stripe denim were what railroad men and engineers wore. They were adopted by auto mechanics whose knowledge and skill rivaled that of a mechanical engineer. The fit was wide with buckle straps and an X or Y back. A work shirt was worn underneath in a olive, brown, or blue. A matching denim work jacket (chore jacket) with 3-4 front pockets added another layer or protection and warm as well as more places to put more tools. Stitching was white.
Jacket and pant separates were another option for the lowest of working men (manufacturing, small garage mechanics) or what men wore under coveralls. Pants would be covert cotton, corduroy, denim, or wool in solid dark blue, olive green, brown, grey or striped colors.
Work shirts were made of heavy cotton, wool flannel or moleskin cloth. Small checks, stripes, stars, plaid, and polka dots in dark and light colors made the working men's outfit more fun than the wealthier classes. Eventually, solid colors were added to the mix — khaki, brown, green, grey, and navy blue — but the pattern shirts did a better job of hiding dirt.
Hats and caps could include the newsboy style cap, the railroad men's style cap, cadet cap, as well as fur caps in winter.
Work boots were lace up style with thicker soles and heavier leather than dress boots.
This article on Edwardian men's workwear will provide you more details and examples of workwear. Links to where to buy workwear clothes are at the end.
Workwear Outfits
Thankfully, men's vintage workwear is making a comeback this year. Even stores like Target are caring some shirts and chore coats. Wide leg pants are slower to replace modern skinny fit everything, but I expect this to change soon. There are also plenty of men's reproduction workwear brands making authentic clothing. Most don't go back into the early 1900s, but even some of the newer styles can work. Bronson Mfg is one brand that usually has earlier pieces (although sizing can run small).
Owners and Drivers
Since most men who owned cars were quite wealthy, and most chose to drive only in fair weather, an ideal look for touring in the summer was sportswear. By sportswear, we are not talking about gym clothes. Sport clothing for upper-class men involved a summer weight suit, dress shirt, tie, cap, and Oxford shoes. Suit coats were discarded in casual settings (but brought along just in case), and vests were optional.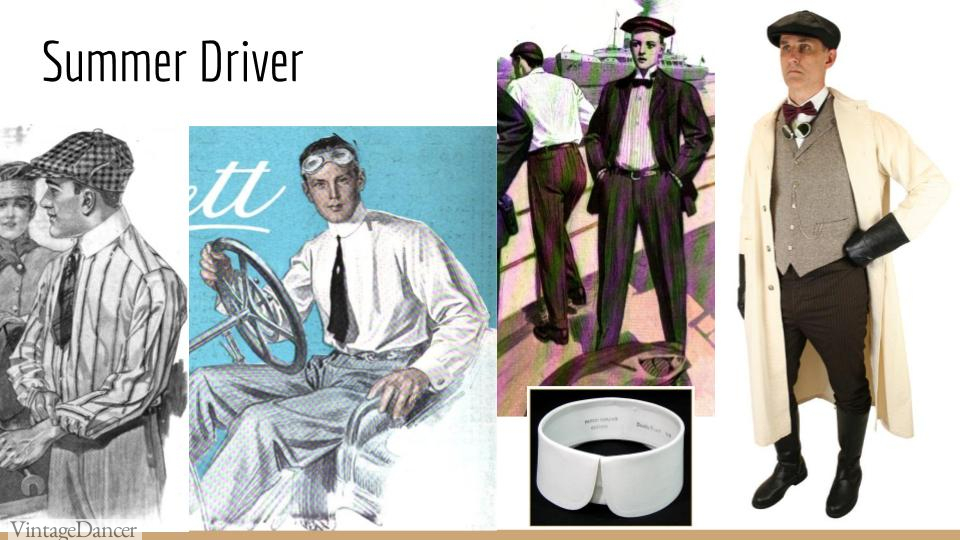 For other men's Edwardian clothing, read this article.
Motoring Accessories
Finally, we get to the accessories that were unique to men's motoring outfits.
Hats and caps we have already discussed. Between the uniform cap and the newsboy cap, you have the majority of men's hats for driving. Shop hats.
Long leather gauntlet cuff gloves protected men's hands from wind and dirt. A pair of work gloves were often kept with coveralls to repair cars. History of men's gloves.
Goggles. Leather trim with a metal frame and glass lenses. They came in many different looks with a few tinted lens colors. Thanks to the Steampunk trend, there are many more googles to choose from. Shop googles.
Motoring Coats
The single most identifiable piece of clothing worn by motorists was the duster coat. It was a lightweight cotton, linen, or pongee silk coat, full length, with a high buttoning neck. They came in a single or double breasted front with big side pockets. In summer, it was worn to keep dust off of clean clothes, not to stay warm. Colors were always tan, khaki, tan-grey or natural linen — the colors of dust. Gentlemen's Emporium carries a simple duster coat, as does Scully Rangewear.
For rain, oilskin cloth or Indian rubber lined in a warm wool flannel cloth was cut with a wide skirt so it would completely cover the legs while sitting. A matching rubber hat had a downward brim.
For winter days, most men wore a wool double breasted coat. Some models had a belt at the back that, once removed, opened up to allow a full skirt. Or, it was belted for a slimmer walking style. In the early years, an all leather coat was popular but not practical in rain:
1904 Saks wool coat
1916 Packard wool coat
For very cold drives, a very heavy raccoon fur Ulster coat was very warm, although also immobile.
From 1910's The Auto Car Handbook, here is a discussion of men's motoring gloves, especially coats.
Outfit Examples
Here I have collected a few outfits my husband, Oscar, has worn for Edwardian era events. Since we don't go to many events in this time period, we choose to thrift store/charity shop most of his clothing. All of these would work for a middle class to working class motorist.
We shopped for a suit coat, brown pants (as close as match a possible), shirt, vest, and cap. The last look is a 1970s remake of… maybe a bicycling outfit? It was perfect for a Tweed ride but I can't say its authentic to the Edwardian era. You never know what you can find in thrift shops or vintage clothing stores!
That wraps up our discussion of Edwardian era men's motoring clothes.
If you need more help with your look or research, please feel free to ask.
Debbie Sessions has been teaching fashion history and helping people dress for vintage themed events since 2009. She has turned a hobby into VintageDancer.com with hundreds of well researched articles and hand picked links to vintage inspired clothing online. She aims to make dressing accurately (or not) an affordable option for all. Oh, and she dances too.