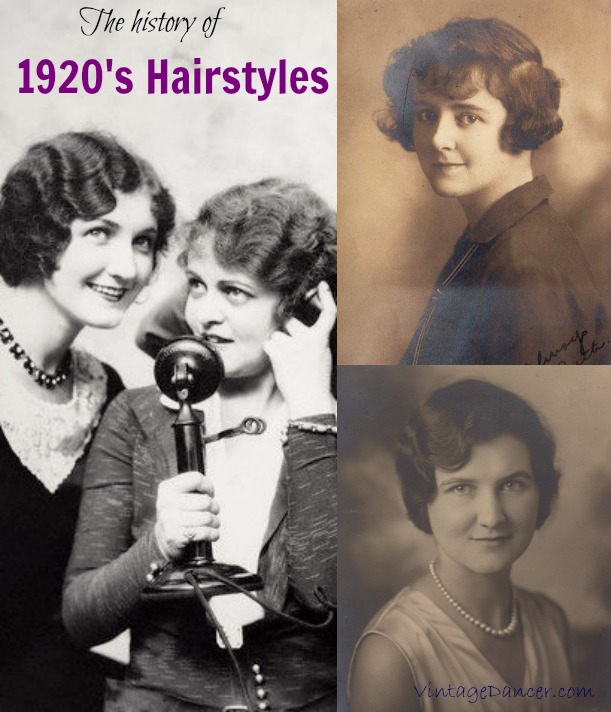 Make no mistake. In the 1920s, a woman deciding to cut her hair was serious business. Simply put, long hair was considered feminine and short hair was not. Magazines such as "Ladies Home Journal" printed stories asking, "To Bob or Not to Bob?"
Consider F. Scott Fitzgerald's short story from 1920 called Bernice Bobs Her Hair. Bernice, the quintessential predictable woman, is tricked into getting her hair cut into a bob. She is suddenly shunned by the boys while her family worries about the scandal her new 'do will cause.
Dancer Irene Castle was one of the first to decide to bob in 1915. Many famous persons followed. Opera Singer Mary Garden said in 1927  "I consider getting rid of our long hair one of the many little shackles that women have cast aside in their passage to freedom."
Actress Mary Pickford, who did not bob her hair because of the pressure she felt from her family and her fans, said, "I could give a lengthy and, I think, convincing discourse about long hair making a woman more feminine, but there is some doubt in my mind as to whether it does or not. Of one thing I am sure: she looks smarter with a bob, and smartness rather than beauty seems to be the goal of every woman these days." Read more about Castle, Garden and Pickford's opinions here.
Once you finish this article, read many more detailed articles on 1920s fashion history. Use the 1920s menu at the top to buy 1920s style clothing.  
Shop wigs, hair accessories and more here. 
Long Hair that Looks Short
In the late teens and early '20s, long curly hair was worn by Silent Movie stars and bathing beauties on the beach. Actress Lillian Gish, Mary Crawford, and Maude Feely each had a turn sporting very long ringlet curls. Sometimes they were gathered up into a loose all-over pile of curls pinned to the head. Other times they were worn half up half down with a headscarf, or all down but swept away from the doe-eyes. Long hair was quick to leave fashion by 1922, but the all-over curls remained.
Mary Pickford
Lillian Gish
1922, a beach bather with long curly hair
My own long curls styled for the early '20s
Initially, the fad for short hair was not to cut but to restyle long tresses into short bobs. Long hair was neatly arranged around the base of the neck or pulled into a bun or chignon at the back with the sides full of curl or neat waves.  The bun or cottage loaf had been a working-class hairstyle for centuries. The 1920s only made it different by styling it a bit flatter to the head or rolled under for even more smoothness all around. All that long hair had to fit under a tighter and tighter fitting hat.
Hair covered ears sometimes into flat buns on either side to look like she was wearing earphones, called cootie garages.
In the evenings, long hair was arranged up high and slightly protruded, looking a lot like the styles of Greek goddesses.  If a woman didn't have enough hair of her own, hair pieces were added. Using wads of a woman's own hair, pulled from her hair brush, was a way to add volume and padding to her hair arrangements.
Marion Davies Long Hair Bunned High with Full Curls on the Sides for evening look
1927 Mary Jacquith two small buns at the sides, hair loosely waved at the front
1920 Long Hair in Bun
Marys Crawley's long hair in a loose twisted knot
To Bob or Not to Bob
Even with all the effort to swath long hair into a faux bob style, by 1924, most women were taking the plunge and chopping off long locks. Frizzy curls and waves on the side of the face were the preference in the early '20s, followed by smoother, sculpted waves in the mid-twenties.  Messy, frizzy and large was the Bohemian look the early flappers embraced.
Advertiser
Curling irons with wood handles and round iron shafts were heated over coals or a gas flame– although when heated too hot, it damaged more hair than it curled it. The new permanent wave machine of large heavy metal rollers was invented and became very popular for achieving tight curly waves. Many women discovered that their hair was naturally curly once they cut the weight off from their long hair. No permanent waves needed for them.
For those with slick straight hair, bobs with bangs/fringe or a side swept part were equally smart.
When women started to bob their hair, they couldn't go to the neighborhood salon– they didn't exist yet! Bobbing was done at home in the hands of a trustworthy friend or an obliging men's barber. What a shock it must have been for men's sacred place to be invaded by a woman who wanted to look like a man!
Barbers had to quickly learn to cut women's hair, following all the latest styles the movies were showing. By the end of the twenties, the women's only salon industry exploded. Keeping short hair neat and curly was too much for most women to do at home– regular trips to the salon were necessary.
Once a woman cut her hair, she was at the mercy of her community's criticism. The reactions to short hair were mixed from both women and men. Some do-it-yourselfers tried to cut their own hair, which only made it look ridiculous. Many women kept their heads covered in scarfs, kitchen bonnets, and hats until the hair grew out.
Others who opted for professional cuts may have had a better haircut, but not necessarily a better reaction. The shock of less hair and the disapproving comments from older family members were enough to make many women feel like a "hussy." While some husbands and fathers liked the short looks, but most did not. Especially conservative Christians, who believed long hair was a sign of Godliness in women. Eventually, all parties found a comfort zone with the new styles. Hair regrew and the town barber became more skilled at these new cuts. Friends who at first thought bobbed hair was shameful eventually gave in and bobbed their own hair, too.
Bobbed Hair Styles
Bob cuts came in different styles with funny names, such as Orchid bob, Coconut bob, Egyptian bob,  Charleston cut, or the Shingle, but there were only two main styles. Short and curly or short and straight. Most bobs hovered around the earlobe length with a center or deep off-center part.
Full Curls
Soft Curls
Soft Curls Bob
Soft bob
Curled Bob
Brushed Forward Hair Bob
Bob With Bangs
Wavy Bob
Straight Bob
Smooth bob, curled tips
Wavy bob with bangs
A Japanese bob
The straight bob was the perfect option for women who struggled to curl their hair. Lousie Brooks and Colleen Moore were each famous for the severe black bob with full bangs/fringe. Mary Crawley on Downton Abby also bobbed her hair into the straight cut. Bobs with bangs were common in both curly and straight styles.  Straight hair bangs were either cut straight across covering the eyebrows or heart-shaped with the middle shorter than the sides. The sides of the bang curled into points resting on the cheekbones.
Colleen Moore, 1926, straight bob
Louise Brooks Cropped Hair with Straight Bands
1924 a young factory worker with a straight bob and short bangs bob
Mary Crawley with her new bobbed hair in 1924 and headwrap
Billie Dove took the pointed ends to shorter heights with her classic "split curls," made extra-pointy with green gel (like petroleum jelly). They curled up on her forehead and cheeks, giving that very baby doe-eyed look she was famous for.
Spit curls were also called kiss curls. The number of kiss curls a young woman wore was sometimes thought to be the same number of men she had been kissed by.
Josephine Baker was another iconic black woman who sported the spit curls during her Vaudeville shows and personal life. Many women copied the spit curls or softer wispy curls when wearing a tight cloche hat. The curls created light bangs or framed the face around the cheeks and neck.
Billie Dove's Iconic Spit Curls
Josephine Baker with a spit curl on the cheek
Small curls framing the face
The cropped hairstyle wasn't content with only ear level cuts. The shingled cut, although short-lived, created the shortest of the cuts: The Eton crop. It was named after the famous English school whose boys wore their hair slightly longer than was usual for the decade.
The cut was essentially a men's haircut with fully exposed ears and often a shaved neck, too. It was called a boyish bob for good reason. Brilliantine was slicked onto the hair to give the cut shine and staying power. A kiss curl or two along the forehead and in front of the ears softened the very masculine cut. For all the drama the Eton crop caused in the '20s, it was the most practical for wearing cloche hats.
Eton crop for the Geisha
Billie Dove with her Eton crop
Marcel Waving
By the late '20s, most women were turning away from fluffy curly hair (which didn't work well under a cloche hat) and instead took to the art of Marcel waving. Not a new invention, Marcel waving required finger wave sculpting wet hair or a Marcel iron. Marcel irons made the job easier, although more dangerous if the iron was overheated on the stove. Electric models came into play in the mid-1920s, making it much safer and easier to wave hair at home.
Waves required more daily care and attention to a woman's hair. The waved look was so popular that it lasted all of the 1930s and into the 1940s as well.  Sculpted waves, soft at first and angular patterns later, took on the geometric shapes common in Art Deco art.  A hairstyle had always been a work of art, and the '20s just made it fit the times.
Anita Page- 1929 marcel waved hair
1928 marcel waves for black hair
African American Hair
It is interesting to note that while white women were going through a lot of trouble to curl their hair, many African American women were going through the same trouble trying to straighten their hair. Both home hair styling and commercial salons offered women bi-monthly servicing to "grease and press" hair into the latest modern hairstyles.
The process involved heating up a "Hot comb" with a wooden handle to comb the hair straight. Hot iron curlers were then applied to wave the hair, create a head of curls or add a few spit curls to frame the face.
The Eton crop and shingle was especially popular with women who had naturally short hair. Working with whatever texture she had, women of color mimicked the same styles that white women sported. The same can be said for Asian and other minority hairstyles.
Wavy bob with bangs
Soft bob
Short straight bob with curled tips
Straight or soft curls peek out from under hats
Long, loose curls
Tight curls, all over bob
Asian Hair
Smooth and short hairstyles were worn by most women of Asian decent. Curling the sides and ends to frame the face took more work but was preferred by many. Having bangs or fringe was also a common hairstyle.
Anna May Wong with short curl bob and bangs
Anna May Wong straight hair pulled back in a bun with bangs
Traditional Japanese hairstyle with modern waves
Curled face framing, Japanese
Soft waves with a spit curl
Short bob with bangs
Latina Hair
Embracing natural curls and waves was preferred over straightening hair.  Many Latina women kept hair long instead of going for the bob.
Dolores Del Rio circa 1929 spit curls
Fluffy curls with deep side part
Lupe Velez, bobbed curly hair
Lupe Velez, curly hair with headwrap
Hair Accessories, Wigs and Styling Books
Learn about 1920s hair accessories here.
Shop wigs, hair accessories and more here. 
Additional Hair History
Art Deco Hair –  A book of '20s and '30s hairstyles with style names, pictures, basic styling and cutting directions.
Etsy and eBay have reproduction 1920s hairstyling books about early '20s rolls or later '20s Marcel waving. Vintage directions are not always easy to follow, but the results are period correct.
1920s Fashion History – Over 20 more articles about women's 1920s fashion
Tutorials
There are hundreds of 1920s hair tutorials online and on YouTube. Most are not accurate, but for a one time event they are close enough. Here are a few for those with difficult hair to make '20s:
If you have long, thick, curly hair like I do, here are some tips I use when styling for the 1920s:
I let my long curly hair be free for an early '20s silent movie star look.
A deep center part and the longer bits pincurled to the back on my head and under some of the top layers.
Layered straight hair with the ends curled under. The longer layers were twisted and pinned in the back.
For waves, I use duckbill clips and pull the hair out and forward between clips to create waves. Let dry and hairspray.
The result of the wave clips. The long hair is pinned to the back in a flat bun.
My long curly hair gathered into small buns at the neck and wave around the front and top. Very Downton Abbey!
Another view where you can see the back hanging down a bit more.
6 or so twisted mini buns/pincurls pinned to my head creates the drama in the back