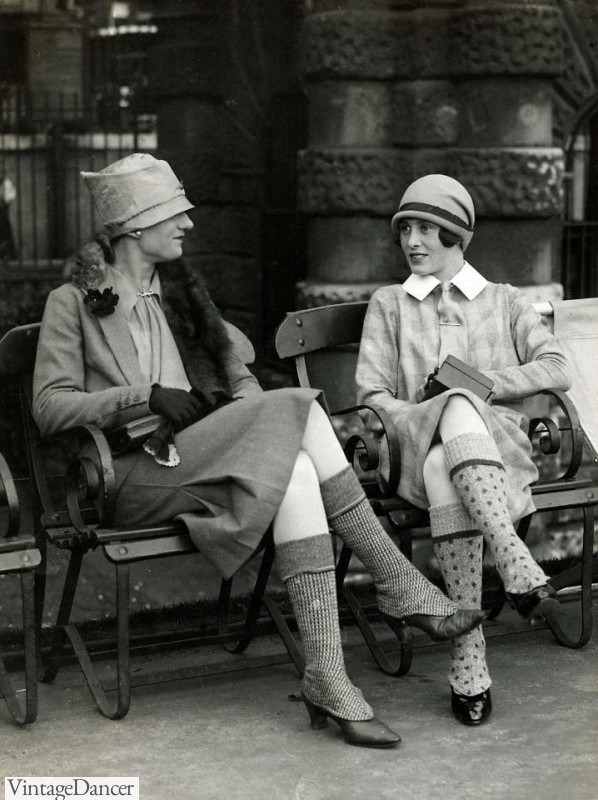 Do you want to learn about 1920s fashion history for both women's and men's fashion? I'm not just talking about flappers and bootleggers and high end designers, but real everyday clothing worn in the 1920s? For the past 2 years I have been researching 1920s fashion, gathering vintage photos and catalogs, and buying and sewing 1920s clothing all to make the 1920s Style Guide series the best resource available online. It is a complete guide to fashion, history, and culture in the roaring twenties, and is perfect for 1920s themed event attendees, reenactors, authors, theatrical costumers, and vintage clothing enthusiasts.
The series will include all of these topics:
Intro to 1920s Culture and Fashion.

Women's Cultural and Fashion History.

Trends and Influences of Fashion Designers.
Occasions for Dress.
Women's Clothing – Dresses, skirts, tops, suits, sportswear, swimwear, outerwear, lingerie, shoes, hats, jewelry, and accessories.
Women's Beauty – Hairstyles and Makeup.
Women's Costuming Advice – Where to shop.
Men's Culture and Fashion History.
Men's Clothing – Suits, Knickers, Sweaters, Shirts, Shoes, Coats, Hats, Loungewear, Underwear, Sportswear, and Accessories.
Men's Hairstyles.
Men's Costuming Advice – Where to shop.
20's Sewing Resources – Patterns, Materials, Trim.
Tutorials- Hairstyling, Quick Thrift Store costumes, Makeup Tutorial.
Reading Resources – The best books and articles (some are free online!)
Free eBook (see below)
… and more! There are 50 articles in all.
With each topic there will be tons of information, pictures, and links to further reading and/or shopping. With 50 articles in the series, it will take about 3 months to get through them all. Each articled is a detailed but reasonably quick to read so it won't take up too much of your time. Think of it as reading an entire book on 1920s fashion in bite size chunks.  If you are not satisfied with the series, you can unsubscribe at any time (no hard feelings, I promise).
Here is what some of the subscribers have to say:
"I want to continue to compliment you on your twenties style guide.  I've been working on a mystery novel set in 1926 and own quite a few books but you've dug out details I've had a hard time finding.  I've kept every one of your posts. "- Jeanne

"Oh no!! Not the End! I've enjoyed these style guides enormously!" – Vicky Loebel, Author of SpeakEasy Dead
I hope you enjoy the series, encourage your friends to follow the series, and ask questions along the way (my email is always open.)  Sign up now and get the first article in just a few minutes:

In a hurry? If you are attending a 1920s themed event soon and need help dressing NOW then jump ahead in the series to these articles:
But wait…there is a book or two….
Read F. Scott Fitzgerald's novel The Great Gatsby, and learn about 192's fashion history while you read along. The book highlights all references to fashion and clothing in the novel with pictures, descriptions and a bit of cultural history for each clothing item. Want to know what Gatsby's suit looked like? Or why white was a sign of wealth? Or what "pottery bracelets" were? All these and more are included in the annotated The Great Gatsby in Fashion eBook. For only $2.99, you can read the entire novel while you learn about REAL 1920s fashion on your computer, Kindle, Nook, iPhone, iPad, or other eReader. All digital files types are included in one download so you can read it however you like. There is also a printed copy you can order for $8.99.
Click here to learn more and buy The Great Gatsby in Fashion book now. 
AND YOUR FREE Gift: 1920's Fashion for Your Body Type
Every day, I read comments from women saying 1920s dresses don't look good on their plus size/petite/large chest/mature/whatever body type they have. NOT TRUE! The 1920s were a time of roaring good fashions for all body types. My free eBook, 1920's Fashion for Your Body Type, explains your body shape and what 1920s clothing will flatter you. Dresses, hats, and hairstyles are all included with over 50 images of authentic 1920s clothing. Click the book image on the left to download the PDF.
Other Books by the VintageDancer
I have written extensive fashion history and style advice in a few published eBooks and free email courses for other decades of fashion:
My first book was the 1940s Style Guide: The Complete Illustrated Guide to 1940s Fashion for Women and Men.  It is still available as an eBook ($9.99) or printed book ($14.00). Since its first publication, I have put most of the chapters online and revised/updated them. You can read them in the 1940s Style Guide email series for free. I leave the book available for sale for those who want to carry a copy with them.
To go with that I also have a free mini book 1940s Fashion for Your Body Type (women).
I also have a 1950s Style Guide email series. This one is only about women's fashion in the 1950s. Over 40 articles will delivered to your inbox, one every other day.
Curious about all fashion decades? Subscribe to the regular blog list which shares new articles to your email. Topics range from Victorian to 1970s vintage fashion for women and men.