Men's 1940s fashion was similar to today's men's clothing. The 1940's men's suit, worn either for day, sport, or evening was styled to make a man feel "larger than life." During the WWII era of 1941-1945, fabric rations limited cloth to make suits but not style.  The Zoot Suit with its bright colors, baggy legs, and long jackets was a complete deviation from the norm. However, that trend was only popular with the young men during the war years. Everyone else wore basic men's suits that hadn't changed much since the beginning of the century. There were, however, a few features that make a suit style specific to the 1940s.
1940s Men's Fashion: The Suit
Suit Pants or Trousers: 1940s style trousers were wide legged, a change from the mid 1930s. They were straight cut with a single hem, or rolled to form a wide cuff. Both were equally common for day wear. British men preferred cuffed legs. The trousers had a center crease that ran the full length of the pants. Pants were usually were pleated from the waist, although early '40s pants still had flat fronts to save on fabric. Finally, pants came in wool or flannel in subdued colors like blue, grey, brown. One unique and popular pattern were white chalk stripes often called shadow stripes today. Wider chalk stripes eventually gave way to the thinner pin stripe pattern.
Suit Jacket: The 1940s suit jacket had several variations of pockets. Pockets could be patch (sewn over the main material) or flapped, with an optional chest pocket. The collar and lapel were quite wide and sometimes made of a contrasting material, like silk, for evening wear. Jackets could either be double or single breasted, although double is more stereotypical of the '40s. To really make a man "larger then life" the shoulders were padded and the jacket fitted in to the waist. I like to think of it as the Gangster look since the 1940s had some very notable gangsters and mafia (think Godfather). Suit fabrics and colors matched the trousers.
Dress  Shirt: Detachable collared shirts went out in the '30s. The '40s had attached collars in the same fabric as the shirt. Colors were muted solids or stripes such as grey and white, brown and white, or yellow/white/pink. Shirt collars were wide and sharply pointed. Fabrics were usually American cotton- a popular choice that grew out of wartime. Shirts were pocketless since they may have been covered up by a waistcoat (vest) or suspenders. Shirt cuffs were usually French or double-cuff style, so cufflinks would be worn with them. Shop 1940s style dress shirts here.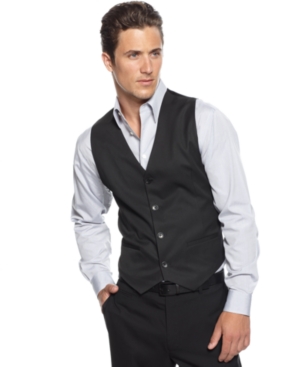 Suit Vest: In the early '40s, men had to do away with their vests. New vests were a waste of fabric and were simply too expensive to buy. Once suit vests from the '30s were worn out, men went without them. Even after the war, men only wore vests with their most formal business attire. 1940s vests were simple single breasted V-neck cuts with a notched bottom line. Pockets appeared on either side for decoration rather than function. Vests always matched suits jacket and pants.
1940s Hats: Fedora, fedora, fedora! Every 1940's man had a black or grey felt fedora hat on their head. Other '40s hat styles were very similar to the fedora shape. The Homburg hat is like a fedora with curled edges, while the tribly has a single crease instead of the fedora's pinch top. Most hats had a hat band material called Petersham. Petersham bands had multiple stripes. Modern hat bands are often made of grossgrain. Finally, the bowler or derby hat continued to be popular through the 1940s. This was the last decade for the derby and pretty much any men's hat fashion. Buy 1940s style men's hats here.
Dress Shoes: 1940s men's shoes came in lace-up Oxford, with or without a toe cap style. To be really in style, you had two toned Oxfords — either black and white or brown and white. Solid color non-lace shoes were in the brogue style. Slip-on loafers were starting to come out in the very late '40s. Read more about 1940s Men's Shoes here. You can also shop 1940s style men's shoes.
Outerwear: Overcoats and jackets were an important part of men's fashion, especially in the cooler weather months. Most men's coats were long, hip length, and straight cut, with a simple two button front closure and pointed collar and lapel. They were made of leather, corduroy, or smooth gabardine fabric. For lighter climates, smooth waist length jackets that either buttoned up or zipped up were good for casual wear. Men returning from the military often wore military issued pea coats and jackets.
Men's Accessories:
Ties and bow ties: Men's 1940s neckties came in some colorful solid wool options as well as two- or three-color wide stripes. Basic colors were blue, red, yellow, green, black/grey, light green/grey, and blue/tan/white. In the late 1940s, men wore silk scarves wrapped and tucked behind a sweater or made into a cravat. Bow ties were almost exclusively worn for formal occasions and usually were just solid black.
Pocket square: No 1940s suit would be complete without a silk pocket square, otherwise called a handkerchief. They were folded and placed in the suit chest pocket for looks. Don't use these for "practical" purposes. Keep that one in your pocket.
Belts or suspenders: Thin black or brown belts were in, suspenders were largely out.
Gloves: Day wear for a gentlemen usually included a nice pair of leather gloves. Black was the most common, but bright colors like yellow added that extra pop the '40s men craved.
Cuff links: Art Deco was the latest art movement that swept the nation — and it changed fashion with it. Cuff links were one more small piece of decoration that allowed freedom with color. Look for Art Deco style cuff links or solid gold cuff links monogrammed with your initials.
Flowers: Flowers for men? Yes! Formal occasions or just charming men wore a colorful flower in their jacket button hole.
Advice for putting together your own 1940s Style Suit
1. If you are on a budget, focus on getting a double breasted jacket and fedora hat. These two items alone scream 1940s more than anything else.
2. Vintage or thrift stores surprisingly can give you everything you need for your outfit at a low cost. Otherwise, check out my 1940's Men's Clothing store for any items you still may need.
3. Avoid modern fedora hats. Yes they will do just fine in a pinch, but for just a little bit more you can get an original wide brim style fedora and really impress your friends. The modern ones are just too narrow brimmed to look right.
4. Wear your best dress shoes. Don't wear sneakers. Go the extra mile and splurge on a nice pair of two toned Oxfords.  If you swing dance, then invest in a good pair of two toned dance shoes.
5. Be clean shaven. 1940s men were not into facial hair.
Shop 1940s Style Men's Clothing: