Shorts were not a new item in women's 1940s wardrobes, but they weren't very common and were usually only worn by teens, pinups, and Hollywood stars. The 1930s style short had a high waist with wide waistband and pleated legs, giving it the look of a tennis skirt. Contrasting buttons on the side came from the Navy/sailor influence. The crotch drop was deep and the length was mid thigh. This style carried over through the war years without much change. 1940s shorts were made of medium blue denim, navy blue denim, corduroy in tan or navy, and rayon or cotton in green, white or sky blue.
Short-alls were short overalls with bottoms similar to either blue jeans or button front shorts. Denim shorts often had a cuff hem and leg press just like denim trousers. As the decade moved away from the war, shorts lost the skirt-like pleating and took on the short trouser look with slit pockets on the side. Some shorts mimicked little boys' and girls' styles with a small flap pocket on the front. Others had a simple elastic waistband, making them look like men's underwear.
While shorts with a print or pattern were less common, they did exist. I have seen cotton and rayon shorts with sailboats, tropical leaves, and other novelty themes on them.  Western Wear sometimes made denim shorts with a paisley pattern usually seen on bandannas. Vertical stripes were popular, too. Usually, patterned shorts came with a matching top for a playsuit look.
Pedal pushers emerged in the late 1940s. They were halfway between full pants and short shorts, ending just below the knee. Teens were the first to adopt the style, but some women wore them with casual knit shirts, crop tops, denim shirts, and summer jackets. Belts were sometimes worn with them too, but they were not necessary.
The pedal pusher influenced other shorts style that were to become part of fashion in the 1950s. Go here to learn more about 1950s shorts, pedal pushers and capri pants.
Need more ideas on what to wear this summer?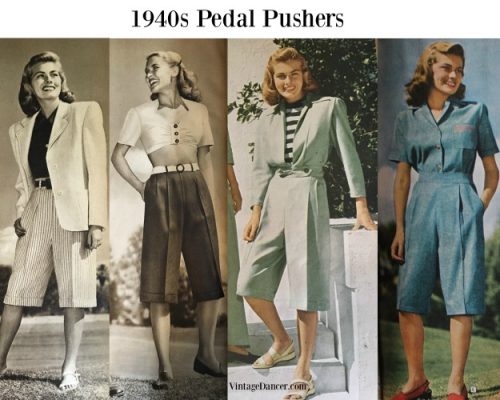 Be your own pinup in a pair of 1940s high waisted shorts, rompers, playsuits, or 1950s shorts like these:
1930s – 1940s Style Shorts
Looking for rompers or playsuits? Click here. For wide leg pants, try here.