The History of Vintage Jeans
By the 1850s, denim fabric itself had already been around for years. However, in 1872, businessman Levi Strauss teamed up with tailor Jacob Davis to create workwear and clothing using denim fabric and reinforced metal rivets. By the following year, the pair applied and received a patent from the US Patent office; and denim jeans with reinforced rivets were born.
The Levi's iconic design included a wing or double "M" shape stitched into the back pockets, as well as a leather patch engraved with two horses trying to tear apart the sturdy jeans. For a long time, illiterate customers called them the "Two Horse" brand.
Jeans have seen many design changes over the years, from the wide flares of the 1970s to the skin-tight skinny jeans of the 2000s. Although vintage jeans were originally designed for workwear, this wardrobe staple has transcended the boundaries of a work uniform – only to become a uniform of another kind for a different era.
In present times, jeans are almost an accepted wardrobe neutral. They have become a base on which to project ones style choices, as a blank canvas is to an artist. Even though jeans may be the fundamental clothing choice for today's times, they can still be styled to suit a vintage look and lifestyle.
This article in under revision and expansion. Come back soon to learn more history.
Men's Denim Jeans History
Take a look at the transition of men's vintage jeans through the years 1920 to 1950. Additional articles below:
As with women's styles, men's jeans have changed in silhouette and shape to match the ebb and flow of the latest fashions. In 1924, the Lee company designed jeans for working cowboys with a deep U crotch in heavy denim, and rivets out of the way of the saddle.
In the 1926, their Cowboy jeans were the first to replace buttons with a zipper or "Hookless Fastener," also named a "Whizit" after the sound it makes.  Lee also made specific jeans for sailors and loggers to accommodate their unique work needs.
While dark blue was the most common color, men's jeans also came in solid black, black and white narrow stripes, and blue and white narrow stripes.
Other changes in men's jeans were the replacement of button or snap on suspenders with belt loops. In the 1940s and 1950s, jeans slimmed down, lowered the rise, and overall lost the workwear feel to become play clothes, especially for motorcycle riding and other "bad boy" interests.
The iconic Levi's '501' style, although it has altered slightly to match the latest trends, has also remained timeless. Levi's have actually recently released a collection of styles reproduced from pieces in their archives, with many men's styles included.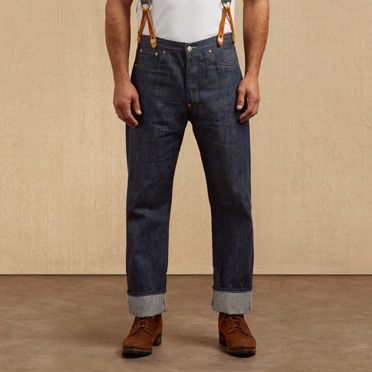 These Levi's 501 jeans are from their vintage collection, based on a style dating to 1915. Whether it be rockabilly turn-ups or the sleek darker shades of denim favored by Elvis in 'Jailhouse Rock', there is certain to be a style of jean out there to suit every need and taste.
Try these shops for vintage inspired jeans: