Women in the 1930s wore dresses all day. What were the popular 1930s dress styles for daytime?
In previous decades, women would change clothes for every activity and for different times of day. As pockets were pinched by the economic decline in the 1930s, clothes that could be worn for multiple activities began to emerge.
While one would not wear one's house dress out to run errands, fine dresses were marketed as perfect for a day full of different activities. The same daytime 1930s dresses could be worn from street to afternoon: "From a shopping tour or business, to an important luncheon, tea, or matinee date," or for "bridge with the girls, dinner, church on Sunday, or an informal evening."
1930s afternoon dresses to be worn out of the home for a variety of activities came in many popular styles, but always they strove to adhere to the 1930s ideal shape, summed up beautifully by this ad for Wards in 1937: "wide shoulders, slim fitted waists, swinging lines."
1930s Dress Sleeves, Necklines, and Collars
In the early 1930s, dress sleeves were usually long and slim, even for juniors' dresses. In 1931 and 1932, larger puff sleeves began to appear on the runways in Paris, and by 1934 day dresses with short shoulder-widening puff sleeves, a hallmark of the decade, were what all the popular fashions boasted.
1932 long narrow sleeves
1934 short, puff sleeves
A variety of 1930s afternoon dress sleeves were employed to create the effect of wider shoulders, mostly variations of puff sleeves with generous gathers at the shoulder seam. "Capelet" sleeves that looked almost like a little cape when the wearer bent her elbows, a less full "flaring" sleeve and ruffle "butterfly" sleeves, even pleated sleeves were among the other varieties.
A "push-up" sleeve style that could be worn down, like this red day dress from winter 1938, or "pushed up" the arm to make a shorter and poofier puff, was also in vogue.
Most sleeves on 1930s misses and juniors dresses were short, ending at the elbow, at the mid forearm, or higher. The sleeveless dress, although less common, was a popular option in hot climates.
Jacket were loose and boxy coming to hip level. There was also a short bolero jacket with short sleeves that was adorable on young petite women and teen girls.
More about 1930s women's jackets.
1936 light jacket and dress set
1934 bolero jacket and dress set
Dresses for mature and plus-size (called "stout" at the time) women more commonly had long sleeves, along with jackets and coats for all ages. Longer sleeves usually still had generous puffs at the shoulder or at the cuff.
Read more about fashion for mature, older or Mrs women in the 1930s. And 1930s fashion for plus sizes.
1930s Dress Styles- Necklines
Necklines and collars were also varied but always high, with no cleavage of any kind. Many day dresses had folded pointed collars, like the common button up shirts today. The size of the collar varied widely, some were embellished with little tie-like bows or flowers at the neck.
Yokes, a seam running between the shoulders on the upper chest, were a popular shoulder widening device. Some yokes were created with a patch of shirring or smocking: both of which are kinds of decorative gathers consisting of two or more rows of gathered fabric. These gathering devices were also used on top of the shoulder between the collar and the sleeve to further increase the visual size of the shoulders.
Boat necks, square necks, mandarin collars, and shallow V's were other fashionable necklines. Some 1930s day dresses had a deeper neckline with a false "vestee" underneath, giving the illusion of 2 layers.
For plus size fashions, wide shoulder accenting was unnecessary. The V-neck and vestee cut were popular in plus size day dresses because it only added bulk to the center line of the silhouette, not the shoulders.
Puff sleeves, gathers, and very high necklines were also typically avoided on stout or mature women's fashions. Bulky fabrics and busy prints were kept to a minimum.
Shop vintage inspired plus size 1930s dresses here.
1930s Dress Styles- Belts and Bodices
Perhaps the most dramatic difference between the fashions of the thirties and the previous decade was the emphasis on the slim waist. At the very beginning of the decade, the flat "boyish" loose shape to the bodice of women's dresses is still apparent. Though the waist is beginning to return, the style is still rather boxy.
1930 Dresses
1932 Dresses
By 1933, the boxy drop waist look of the 1920s is completely gone. For the rest of the decade, almost every fashion sported a high natural waist accented with a belt. Belts were usually made to match a 1930s women's dress exactly, of the same fabric, and were often attached. Placement of the beltline was just about the central waistline (belly button) by an inch or two.
The shirtwaist dress, often associated with house dresses, was being worn on the street too. Nicer fabrics and coordinated trim elevated the humble shirt dress. There were two styles- the shirtwaist and the full button down shirt dress. The buttons to the waist were more popular with the full buttons coming in later in the decade.
See more history of 1930s house dresses many which crossed over into daytime dresses.
1930s buttons are very collectable today. They were not plain and utilitarian. Instead the came in a multitude of shapes, sizes and colors. They were a critical part of a dress' character and a very affordable way to trim a dress.
1936 linen shirtwaist and shirt dresses
1937 shirtwaist dresses
Some quintessentially 1930s seams that smoothed, flattened and visually shrank the waist became a '30s hallmark: an upside-down v-shaped or half-moon shaped seam just under the bust, allowing room for one's bust while the fabric from the torso to the mid-hips were very snug, smooth and fitted. Often, the upper bodice had gathers above this seam.
Lots of different kinds of embellishment and detail decorated 1930s afternoon dresses to be worn in public: trapunto (a 3-D stuffed kind of quilting), applique, embroidery, fagoting, buttons (fabric covered and metal or even novelty shapes), "nail head" metal studs, faux flowers, decorative pins, lace, pleats, and braided details adorned the collar, bodice and sleeves.
The fashion was to create "interest at the top" of the garment. Meanwhile 1930s skirts were simple and lacking decoration, while featuring pleats, gores and other seam styling.
Zippers were new, novel and became a common method of fastening and decoration, so they were visibly featured on some dresses.
1930s Dress Skirts
Hemlines went back down after the almost knee-baring 1920s, to the mid-calf for day dresses. The square drop waist styling disappeared, and skirts for 1930s day and afternoon dresses were fitted through the hips and flared out from the mid-thigh to the mid-calf.
Day dresses boasted a variety of gores, pleats and seam details to slim the hips and create stylish "swing" at the bottom of the skirt. Pleat styles included partially sewn pleats, either across the front or in groups at either side of the front panel, and fully pleated 1930s skirts continued to be a perennial classic.
In the early thirties, a fitted "hip yoke" was common, an evolution of the '20s drop waist though much more snug. This style was less popular late in the decade, but it was still being made into the late thirties.
Another 1930s skirt style more common in the first half of the decade was multiple panels that curved up over the hips — very flattering and elegant. Usually these details were reserved for party frocks and evening gowns.
Many skirts were just very simple 4-10 gored panels and a kick pleats at the knees.
The length of dress skirts varied by the year. Most of the decade had skirts coming to mid calf while. Towards the last two years skirts rose to almost the knee, conserving fabric and increasing freedom of movement.
1930s Tunic and Peplum Day Dresses
In the later 1930s, a tunic style day dress became a trend. It was similar in styling to other day dresses but with a long tunic length layer over the skirt. It was both an afternoon and evening look. While many slipped on overhead, others looked like a coat, belted over a simple sheath dress.
1937 peplum and tunic dress
1936 tunic and pelum dresses
Another similar 1930s day dress trend was a dress that appeared to be two pieces, a blouse with a peplum (a short overskirt that is attached at the waist of the fitted blouse) and a skirt, but was actually a one piece dress. The peplum was shorter than the tunic top and almost always buttoned up the front. It was a style that gained extreme popularity in the 1940s.
1930s Knit Dresses
Knitted dresses were a relatively new idea in the 1920s and 1930s. They were warm and therefore ideal in winter with long sleeves and long skirts. However they were equally charming in summer weights with short sleeves. They were frequently sold as a two peice dress with matching top and bottom.
1934 summer knit dress
1937 summer knit dresses and sets
1932 woven knit dresses
1935 winter knit dresses
1930s Two Piece Dresses
The knit dress was not the old one to come in two pieces. All fabric were used to make the new two piece dress or top and skirt. The top was blouse-like or a peplum top and sometimes a jacket style. They were made of light fabrics in summer and heavier woven in winter.
1935 two piece polka dot dress
1939 two piece dresses
The two peice dress usually was made of the same top fabric for top and skirt but sometimes that contrasted with a bit of coordinated fabric trim. They were very economical because the skirt could be paired with separates blouses and the top with other skirts (photos at the end.)
Likewise the ladies suit was a two piece outfit, although it was usually a full dress with matching jacket. Some were skirt and jacket combinations worn with a separate blouse. The true mannish style of ladies suit was coming soon in the 1940s. In the 30s it was still very feminine.
1936 dress and jacket suit
1933 skirt and jacket suit
1930s Tea Dresses
A common 1930s event is afternoon tea. Women wore any kind of daytime dress she liked to 30s tea party or garden party, however there are a few afternoon styles of dresses that lent themselves to more formality.
The more lace that decorated a dress the richer it became. Lace collars, lace cuffs, lace trim were and easy way to make a plain dress jazzed up for an elegant tea.
Lace fabrics such as eyelet were briefly popular afternoon dress materials. Open weave knit lace dresses had the same texture.
1936 eyelet lace and knit string lace dresses
1935 eyelet dress
Richer fabrics such as taffeta, silk, silk-rayon, organdy, crepes were used for semi-formal frocks. Light colors, white and pastels- were best for summertime in sheer fabrics. A summer hat and pair of gloves were the two critical accessories to any tea party frock.
1936 sheer white dresses
1939 sheer rayon dresses
For late afternoons/early evenings and fancy breakfasts, women dressed in luxurious prints topped with furs, jackets, jewelry and freshly styled hair. Hats were still worn, even indoors.
Church going ladies often wore tea dresses or their best daytime dresses to church on Sunday. Complete with hat, gloves, heels, and quality stockings, attending church in the 1930s was a formal affair.
1930s Dress Fabrics
1930s day dresses were made from several different fabrics. Rayon was new and rapidly became a less expensive alternative to silk and wool.
Crepes were very popular — both silk crepes and rayons or acetates. Sheers and shantung were for spring; wool, wool/rayon blends, and satin were used the winter.
Cotton was also used in higher quality percale shantung and crepe. They could be solids or prints, while house dresses were rarely solids, and more sophisticated dresses for being out and about were just as likely to be a solid color with decorative details as a bold print.
Small floral prints were very popular, but polka dots outnumber them- for any age. Plaid was another trendy print for daytime frocks.
Nautical colors- especially white with blue trim, the "sailor look"- were summertime favorites. Read more about vintage sailor clothing.
Colors for Fall: Plum, brown, royal blue, emerald green, goldenrod, grey, black.
Colors for Spring: Pink, butter yellow, peach, sky blue, orange, tan, white, orchid, rose, medium blue.
More information about 1930s fashion fabrics and colors.
1930s Dress Pictures
A slideshow of illustrations and photos of 1930s daytime dresses.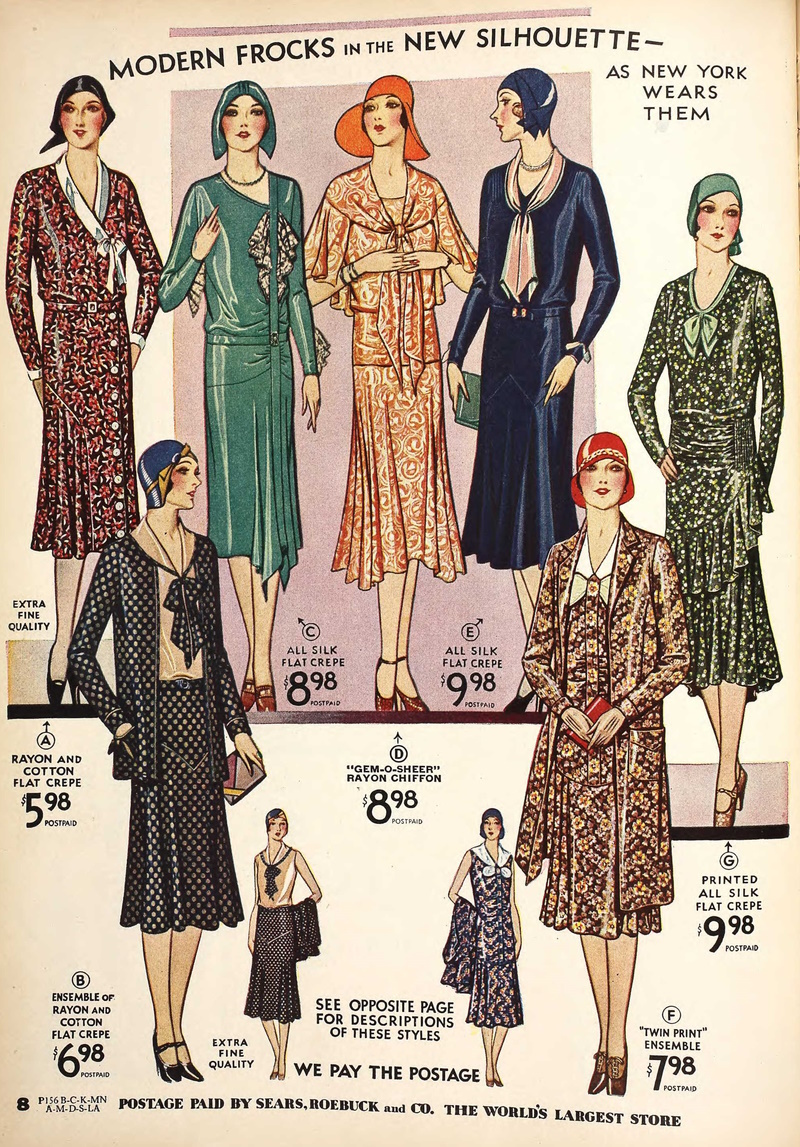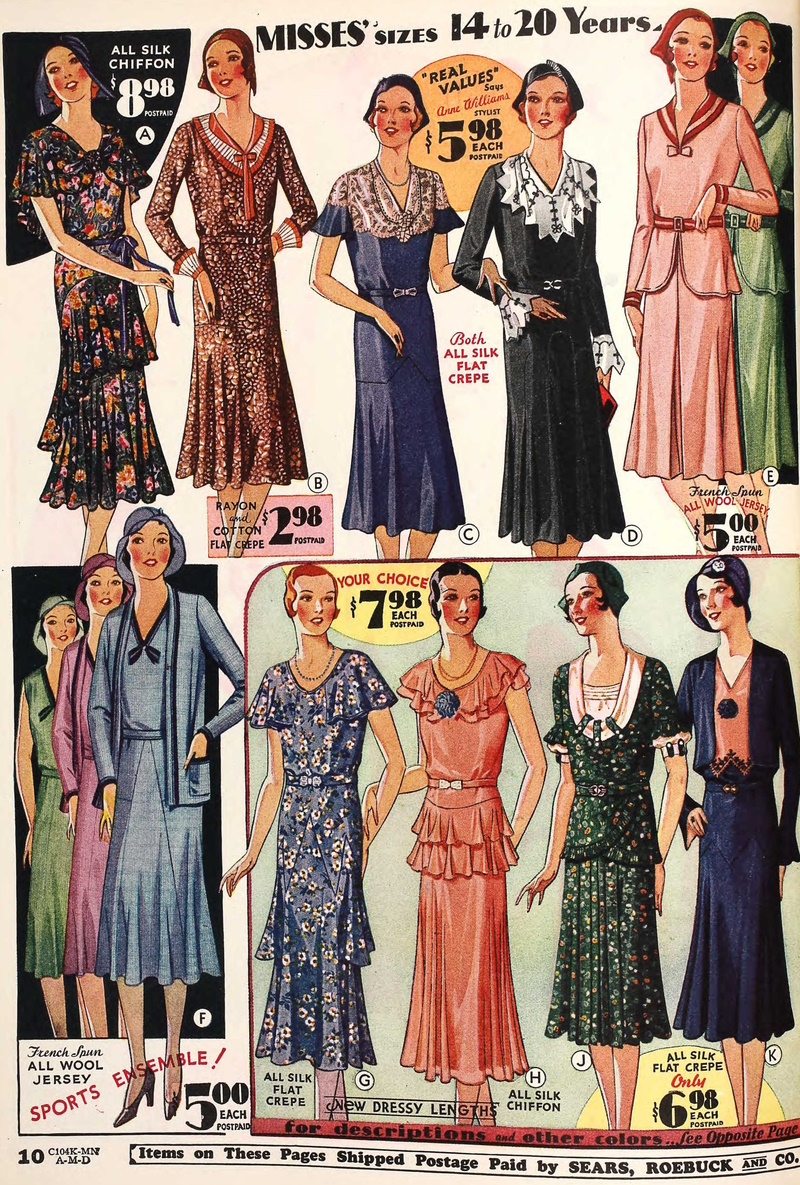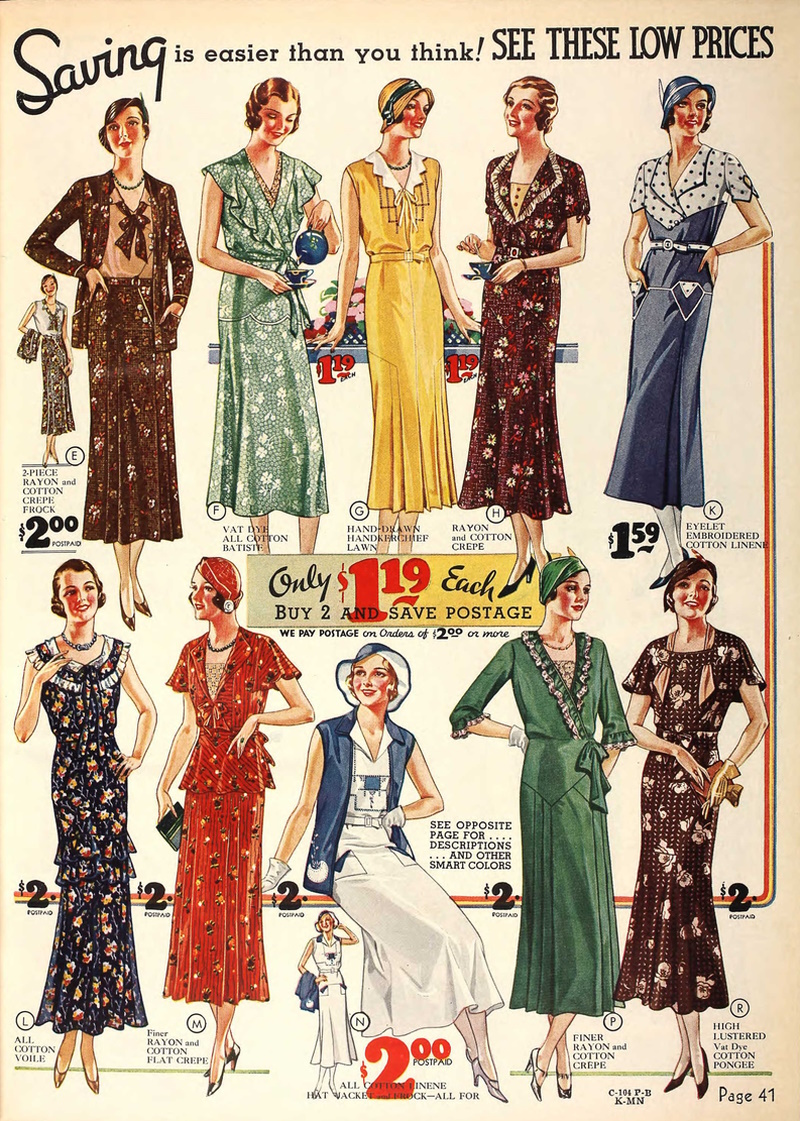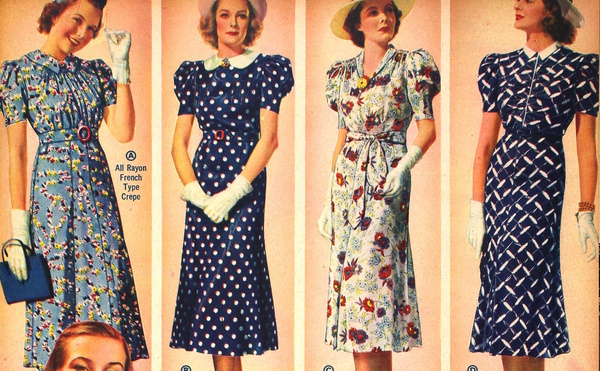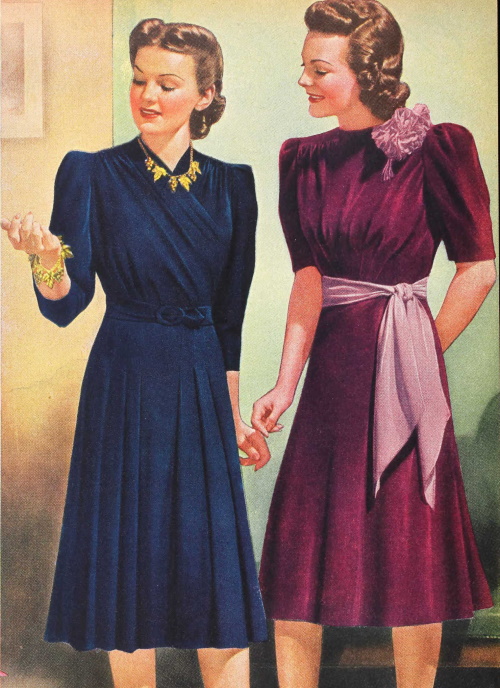 1930 sears dresses spring party afternoon church 800 color
1930 sears dress long sleeve spring color
1931 spring frill dresses tiered peplum tea 800
1931 day dresses cotton summer sleevelsss color 800
1932 sears dresses spring long color 800
1932searsdressessummersleevless600
1932 summer dress spring sears plus color
1932falldresseswoolsilktweed600
1933 layered jumper dresses wraps daytime 800
MyrnaLoyinWhenLadiesMeet1933dresspolkadotscarfhatpicturehathalo500
1933dresseswintercolors600
1933HAVENNERGEORGEMRSPORTRAITglasseshairdresspolkadots600
1933 dress spring summer collars stripe sailor 800
1934 fall day dresses wrap long sleeves polka dots plus
1934FOOTEWALTERAMRSPORTRAITprintdressmature500
1935 tea dresses plu daytime color 800s
1935Fallknitdressesbrowns600
1935daydressesjacketplaid800
1936soliddressesbutterflysleevespuffcolor800
1936brownsuitsanddressesfallwinter600
1936coatdressessummerwhitesailornautical800
1936falldressessmockedcolor800
1937 Sears dresses spring
1937MongomeryWardssuitdressesskirtshatswinterfall600
1937 day dresses color spring summer 800
1938 misses and teen juniors cotton street daytime dresses color
1938youngdressescolorteen500
1938teengirlscolordressesprint600
1939 summer dresses color polka dot floral puff sleeve daytime
1939winterdresssashbeltsashwomenruchedwrap
1939daydressesfalljacketdressfloral600
1939falldressesbrightpinkwoolwintershirtwaistdress800
1936coatssuitspolkadotjacketsheerplussizedress600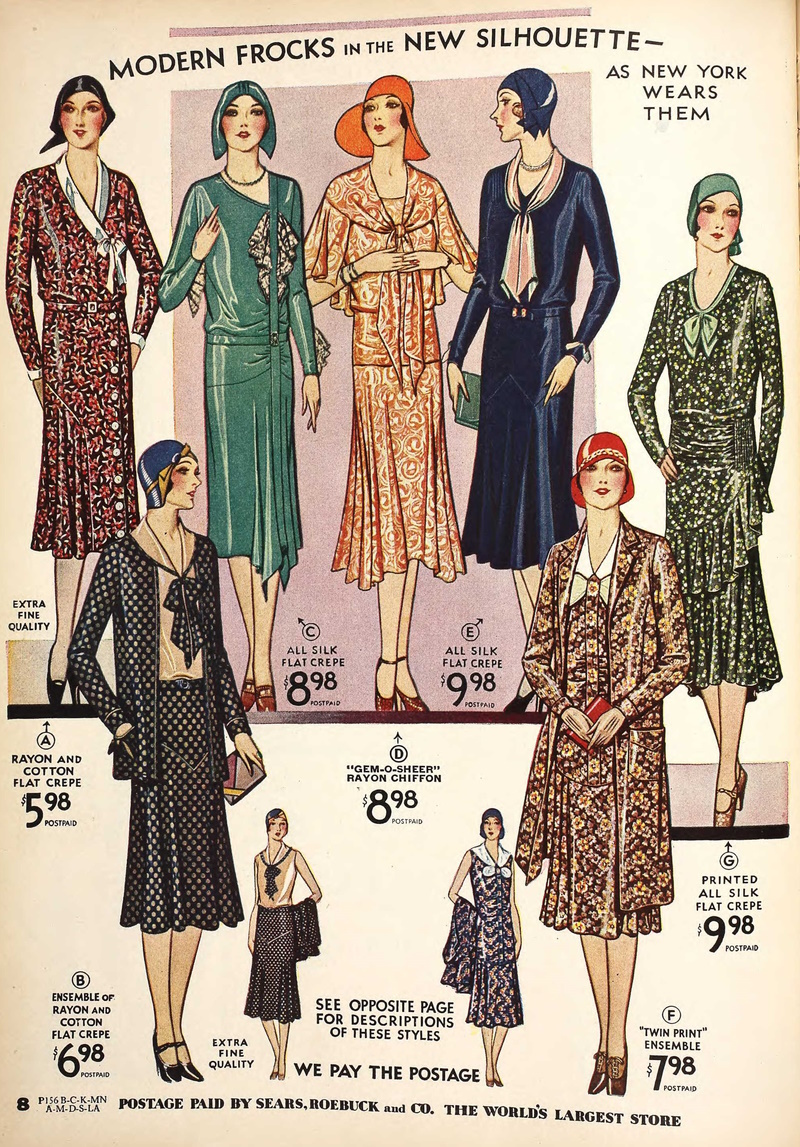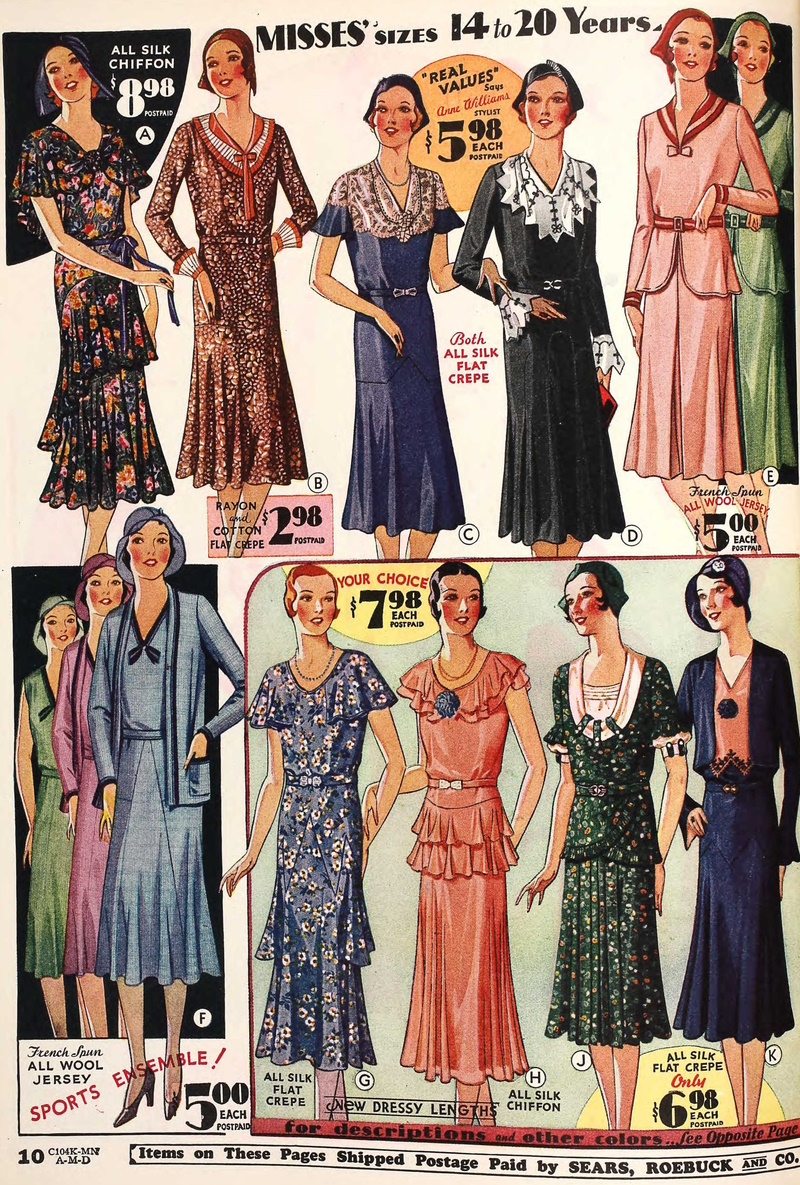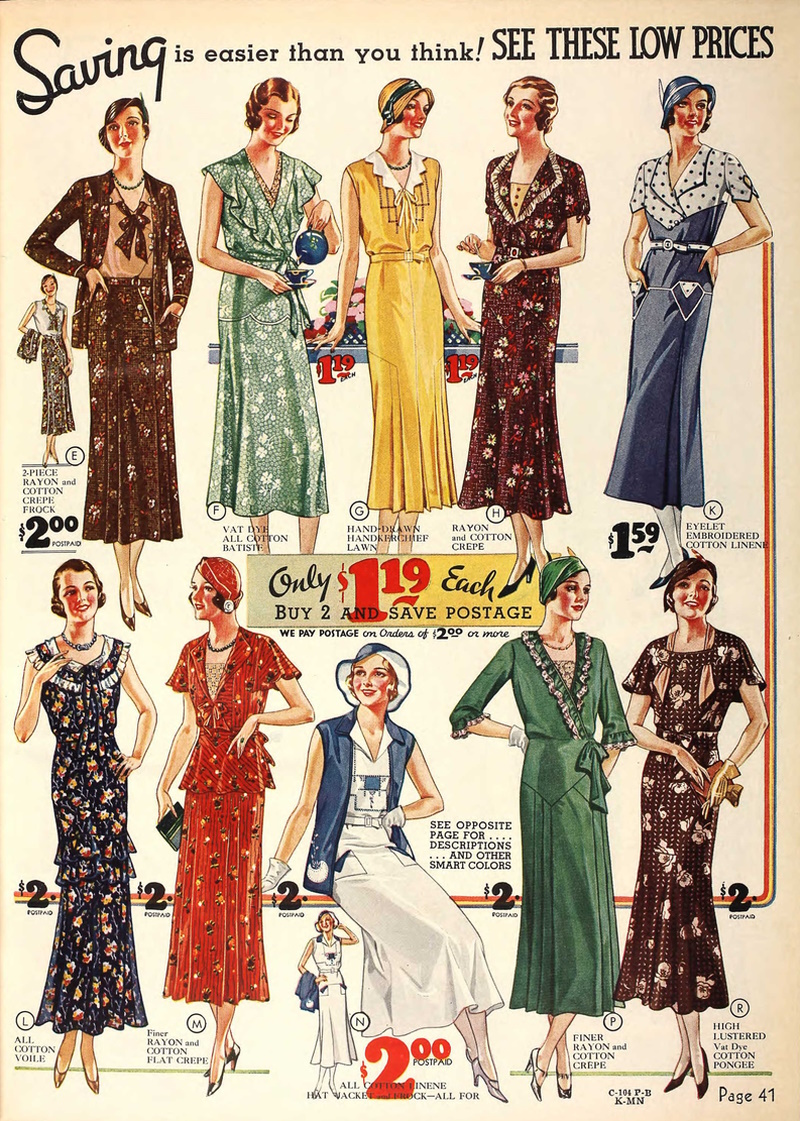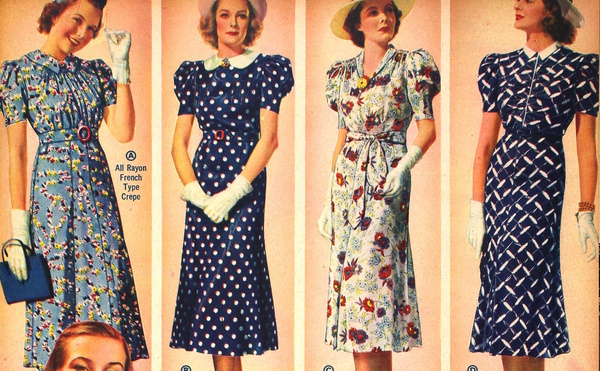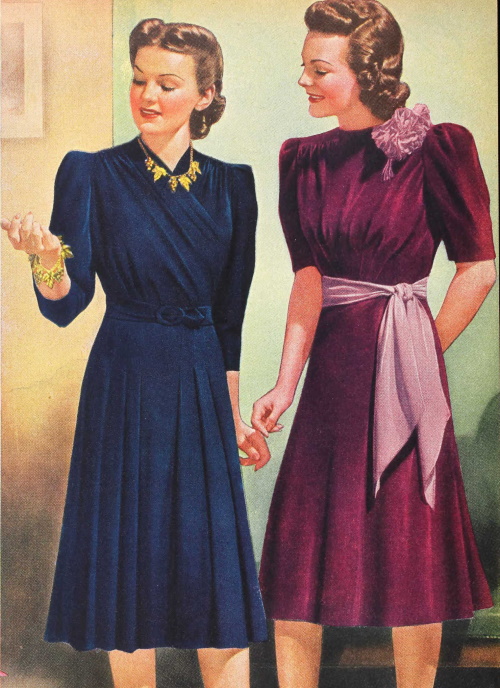 1930s Day Dresses Today
Modern styles tend to favor short above the knee dresses or ankle length maxi dresses. With the 1930s iconic length ending at mid shin "midi" or "tea" length, a new 1930s day dress is a rare find. A shorter, late 1930s style dress will be easier to find. Otherwise, longer "maxi" length dresses can work if you just have them hemmed up a bit or left full length.
Keep an eye out for modest top dresses. The 1930s did not show any cleavages and the overall fit was loose (looser than most illustrations make them seem.) Many current 70s style dresses also work for the 1930s.
My best source for used 1930s day dresses is thrift stores. Floral print chiffon dresses were popular in the '90s, which means thrift stores have plenty of them. Hemming lengths, adding ruffles and trim, making a matching belt are all easy, thrifty ways to make a 1930s style dress. I have some of these DY outfits on this 1930s outfit ideas article.
If you are more handy with a needle and thread, consider sewing a day dress from one of these 1930s fashion patterns.
For reproduction and high end brands that sell 1930s clothing look at this list.
Additional 1930s dress links are:
1930s Plus Size Dresses | Art Deco Plus Size Dresses
1930s Evening Dresses | Old Hollywood Silver Screen Dresses
1930s Style Wedding Dresses | Art Deco Wedding Dress
More 1930s Fashion History
1930s Fashion | What Did Women Wear in the 1930s? 30s Fashion Guide
1930s Shoes History: Popular Styles for Women
Simple, Natural 1930s Makeup Guide
1930s Jewelry Styles and Trends