Who doesn't want to dress like the cast of Downton Abbey? The fashion is stunning.  The dinner dresses are long columns of beautiful beads and chiffon drapes. Day dresses are simple yet elegant in a way that only the early 1920's could capture. Thankfully new Downton Abbey style dresses,  Downtown Abbey shoes, and Downton Abbey jewelry are not only easy to find today but equally amazing as the original series costumes. The following 10 styles of dress will show you how to spot a Downton Abbey style dress in your local store as well as where to buy them online.
Downton Abbey Dress Styles:
1. Long Beaded Dresses
The most beautiful dresses worn at Downton Abbey were always the dinner dresses. In all the seasons the evening gowns were made of the richest silks. They were also the most heavily decorated with embroidery, beads, feathers, and gems. In season 3, set in 1920, the gowns were almost entirely covered in intricate patterns of beading. Mary's dresses were especially detailed.  You too can find many long, sleeveless beaded evening gowns like Mary's. Sue Wong is a designer who is well known for her beaded dresses. Other designers are also producing some fine long bead and sequin dresses. Keep in mind while shopping that its very expensive to make beaded gowns. Dresses made with sequins instead of beads will lower the cost yet still be beautiful. Beaded dresses will cost you $200 and up. Shop my favorite Downton Abbey Style dresses here. Plus size shoppers will find many 1920's style beautiful dresses here. 
2. Short Beaded Dresses
While season 3 was set in 1920 where dresses were still quite long, season 4 brings us a few shorter dresses we normally think of from the 1920's. You can call them flapper dresses, after the free spirited young things of the twenties, or just shorter versions of the early 1920s dresses. Shop 1920s style flapper dresses.
3. Two Piece Dress
While the twenties were not the first decade to introduce a two-piece dress set they were the era to make them comfortable. Loose fitting long tops hung over straight, tiered or pleated long skirts and gave ladies the illusion of a one-piece dress. The two-piece design provided ease of movement and ease of dressing by oneself. These causal styles were worn mostly in the day while running errands or hosting a tea with friends.
When shopping for a two-piece dress set look for ones that give an overall unfitted, column shape. They are also best when the top and skirt are of the same material or at least the same color. Shop 1920s style dresses in one and two pieces.
4. Chiffon Gown
Mary wasn't the only crawly sister with a taste for beautiful gowns. Both Mary and Edith were fond of the less ornate gown of the 1920s- the Grecian chiffon. The tube shape of 1920s gowns was inspired by ancient Greek draped dresses- the same inspiration for the Titanic era and also Season 1 of Downton Abbey. The early 20s version was sleeveless with elegant draping from the shoulder down to low waist formed this popular shape of the early 20s. The draping was secured by a splash of beads, rhinestone clips, and even feathers. Beading around the neckline was also common with Grecian style dresses. Most chiffon dresses today are found in formal wear. They are usually long but shorter version like the one above are also period correct. Shop early season Downton Abbey style chiffon gowns.
5. Art Deco Design
Art Deco was the art and design movement of the mid 20s to the 40s. The influence was felt in fashion with the use of geometric shapes and metallic tones of gold, silver, emerald green, and rust orange. The Deco design in Downton clothing can be seen more in the accessories like jewelry. Shop Downton Abbey 1920's costume jewelry.
6. Tiered Dresses
Tiered dresses also called layered dresses have made a big comeback this year. Multiple layers of light fabric give the suggestion of fringe flapper dresses. The swinging layers are a bit more classy than fringe which makes them perfect for a Downtown Abbey party. Long and short tiered dresses are available as well as angle and uneven hem tiered dresses for a modern 20's style. Shop 1920's style cocktail dresses. 
7. Feather Dresses
The use of feathers instead of fringe is another way that today's designers have updated 1920's style. I love the movement of light feathers floating as you walk or dance the Charleston! Sue Wong has many feather cocktail dresses in her collection. Take a look at her 20's inspired designs.
8. Drop Waist Casual Dresses
Sometimes you just don't need all the fuss and expense of a bead, feather or fringe dress. The ladies of Downton would have worn casual day dresses most of the time. The defining shape of the 1920's was the drop waist dress. Straight through the body and over the hips the "waist" line of the dress sat just below the belly button. As the twenties progressed the line dropped further and further down to just below the bottom hip and in some cases there was no line at all! Cotton or jersy drop waist dresses are very comfortable and flattering on most body types. Wear them all day, everyday, and take a bit of Downton Abbey with you. Shop 1920s style day dresses. 
9. White Tea Dresses
In the last episode of Downton Abbey season 3 we see the ladies dressed in their summer whites. Cool cotton voile dropped over a silk slip  made these dresses perfect for warm afternoon parties, garden events and indoor afternoon Teas.  White or pastel colored lawn dresses or tea dresses are popular in the summer months. A few stores carry them year round too. Look here for 1920s style tea dresses. 
10. Handkerchief  "Hanky" Hem Dresses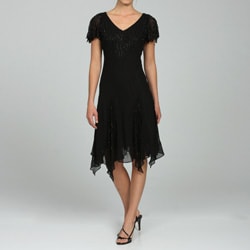 J- Kara Beaded Handkerchief-hem Dress
Last but but not least and my personal favorite is the handkerchief hem dress. These uneven, pointy hem, dresses were all the rage in the mid to late 20's. When short dresses were still scandalous the hanky hem was a sneaky way to wear a long dress that showed leg with every step and GASP!  an entire shin when sitting down. I am sure Lady Sybil would have been the first to wear one at Downton. Be a little scandalous with your own hanky hem dress.
 Before you buy any 1920's style Downton Abbey dress you should download my free guide to choosing the best 1920's dresses for your body type. It can be easy to buy the wrong dress for your specific body type, especially online. My guide will show you how to choose a dress style, color, and trim based on fashion rules of the 1920's. Download 1920's Fashion for Your Body Type now and enjoy your shopping adventures back in time. (Its free, no email required)
Shop ALL Styles of Downton Abbey dresses: